Concrete Driveways and Patio Contractor - London ON and Surounding areas
Many finishes available to enhance your outdoors
Request a Quote
The Different Kinds of Concrete Finishes Available For Home Owners
In making your home's outside space look good, the type of concrete finishes you pick can make a big difference. This is true for driveways, paths, shed bases, or back patios. Master Decker, a well-known name in making yards look great, has many options for concrete finishes.
Broom Finish: This is a basic option good for driveways and paths. It's not too costly and stops slipping. A broom is pulled over wet concrete to make small lines that help with grip. The folks at Master Decker are great at doing this.
Stamped Concrete: If you want your shed base or patio to look fancy, stamped concrete looks like natural stones or bricks. Master Decker has lots of patterns and colors to make sure it looks right in your yard.
Exposed Aggregate: This finish shows the stones or pebbles in the concrete. It's neat and adds a nice touch. It's good for patios and paths.
Colored Concrete: Adding color to your concrete can change how your yard feels. You can pick from natural colors to brighter ones. Master Decker can help you pick the best color for what you need.
Polished Concrete: If you like a sleek, modern look, this is for you. The concrete is ground down until it's smooth and shiny. This looks great on patios and inside floors.
So, the type of concrete finish is important for making your home's outside areas both useful and good-looking. Master Decker is awesome at helping with this and making sure the work is top-notch. Their team can help make your yard a place you love.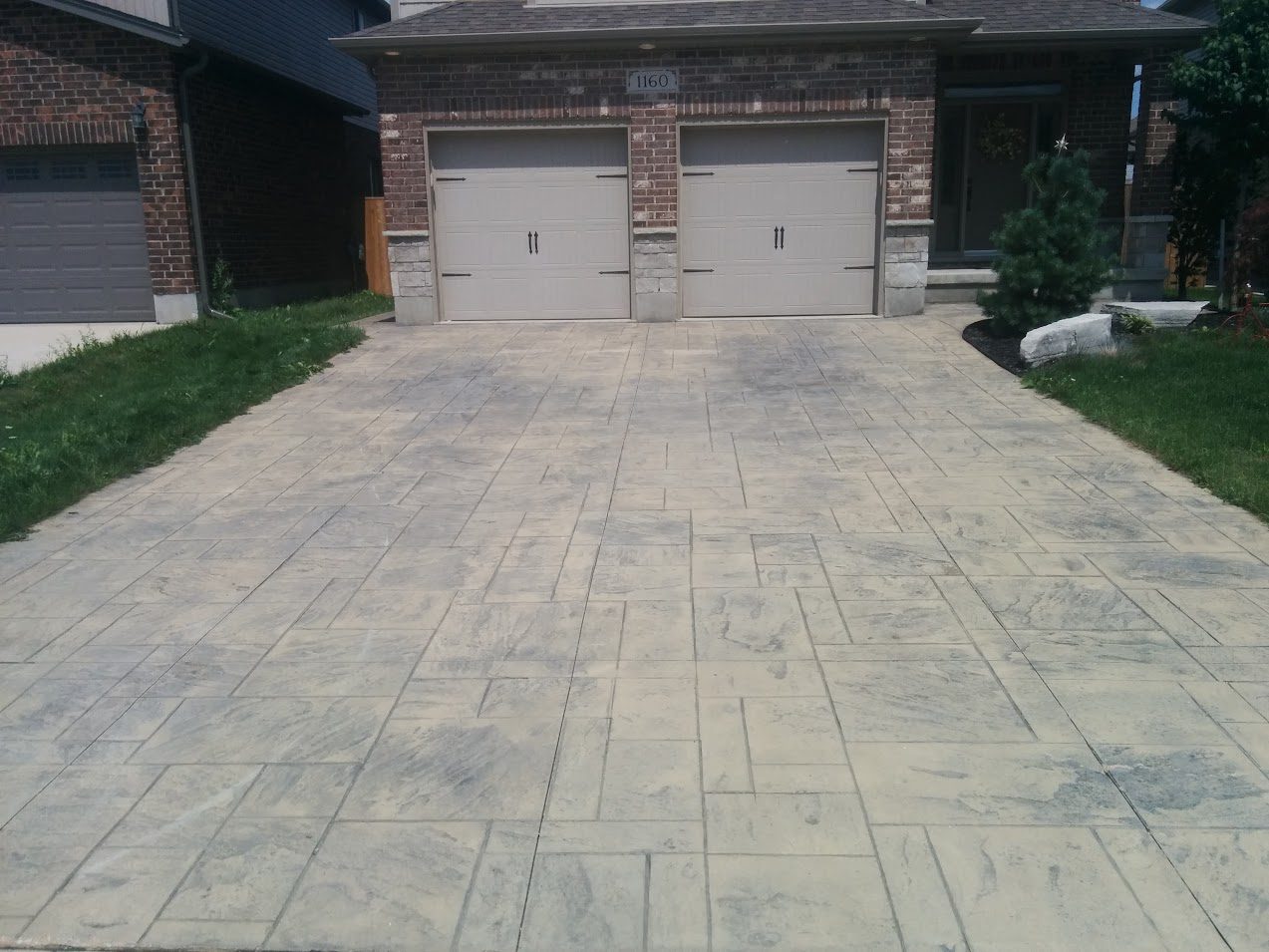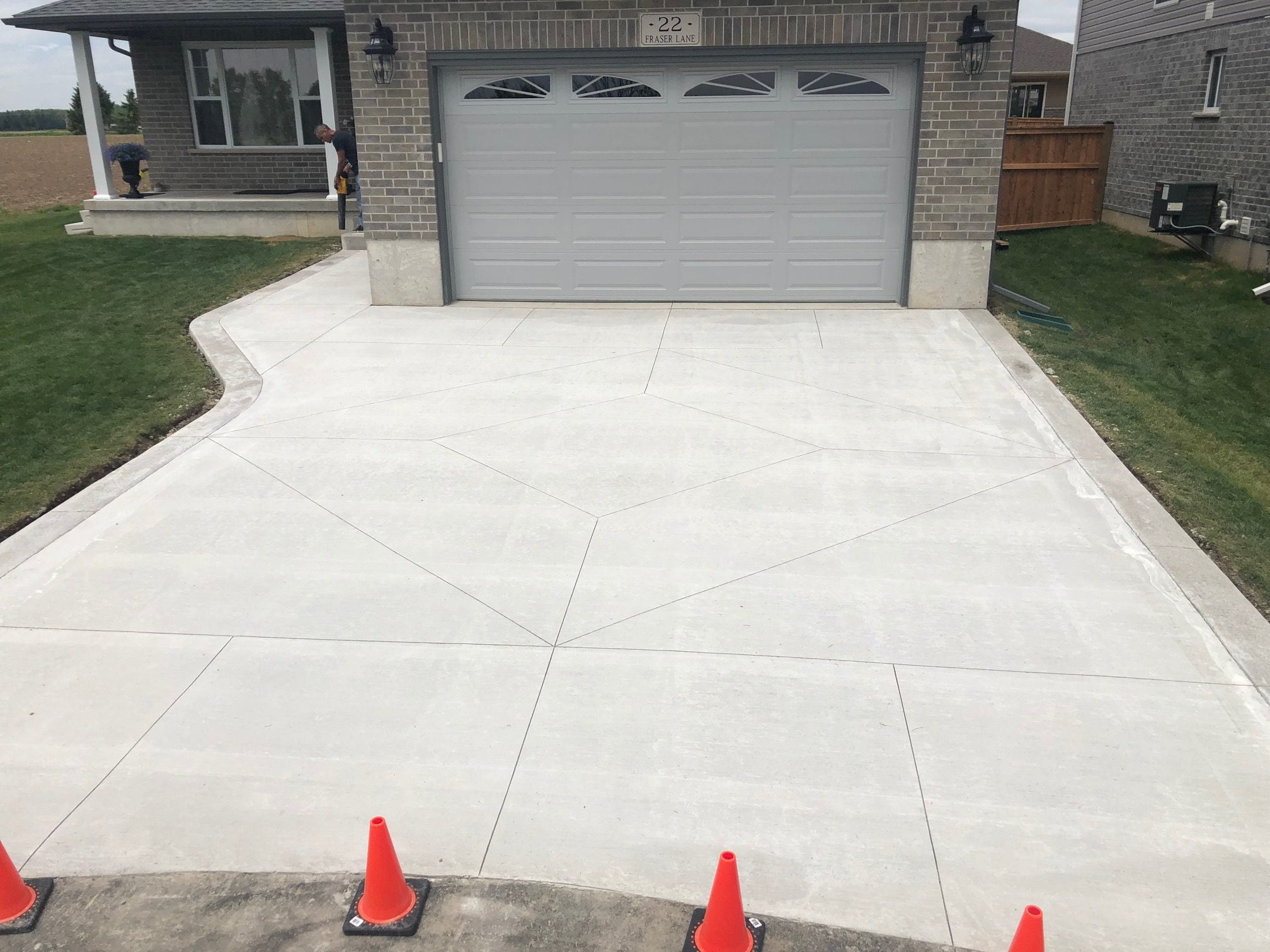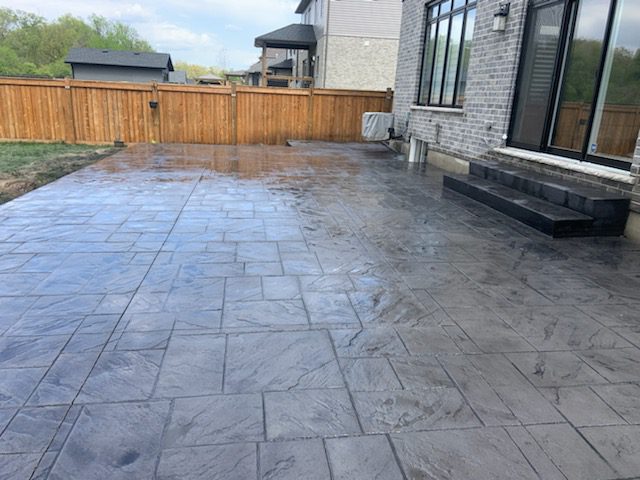 Benefits of Concrete Installation:
Added Space: Installing concrete increases the size of your patio and entertaining area or the amount of parking you have.
Durability:

Con

crete

is durable

,

making

it

an

ideal

choice

for

areas

that

experience

heavy

foot

traffic

or

harsh

weather

conditions

.

Versatility:

Con

crete can have several finishes such as

traditional

gray

concrete

to

decorative

stamped

and

stained

concrete

.

Strength:

Con

crete

is

strong. It outlasts asphalt and wood has less maintenance than patio stones. 

Low Maintenance:

Con

crete

requires sealing every few years.

Cost-Effectiveness:

Con

crete

is cost efficient making it

an

ideal

choice

for

budget

–

conscious

homeowners

.
Why Choose Master Decker For Your Next Concrete Driveway, Patio, or Shed Pad?
Experienced Professionals: Our team has years of experience in the concrete installation industry, and we are committed to delivering the highest quality of service to our clients.
High-Quality Materials: We only use the best quality materials for our concrete installations, ensuring that your driveway or patio is durable, long-lasting, and looks great.
Customizable Solutions: We understand that every property is unique, and we offer a wide range of customizable concrete solutions to meet your specific needs and preferences.
Affordable Pricing: We offer competitive pricing for all our services, ensuring that you get the best value for your money.
Excellent Customer Service: Our team is dedicated to providing excellent customer service, and we strive to ensure that our clients are completely satisfied with our work.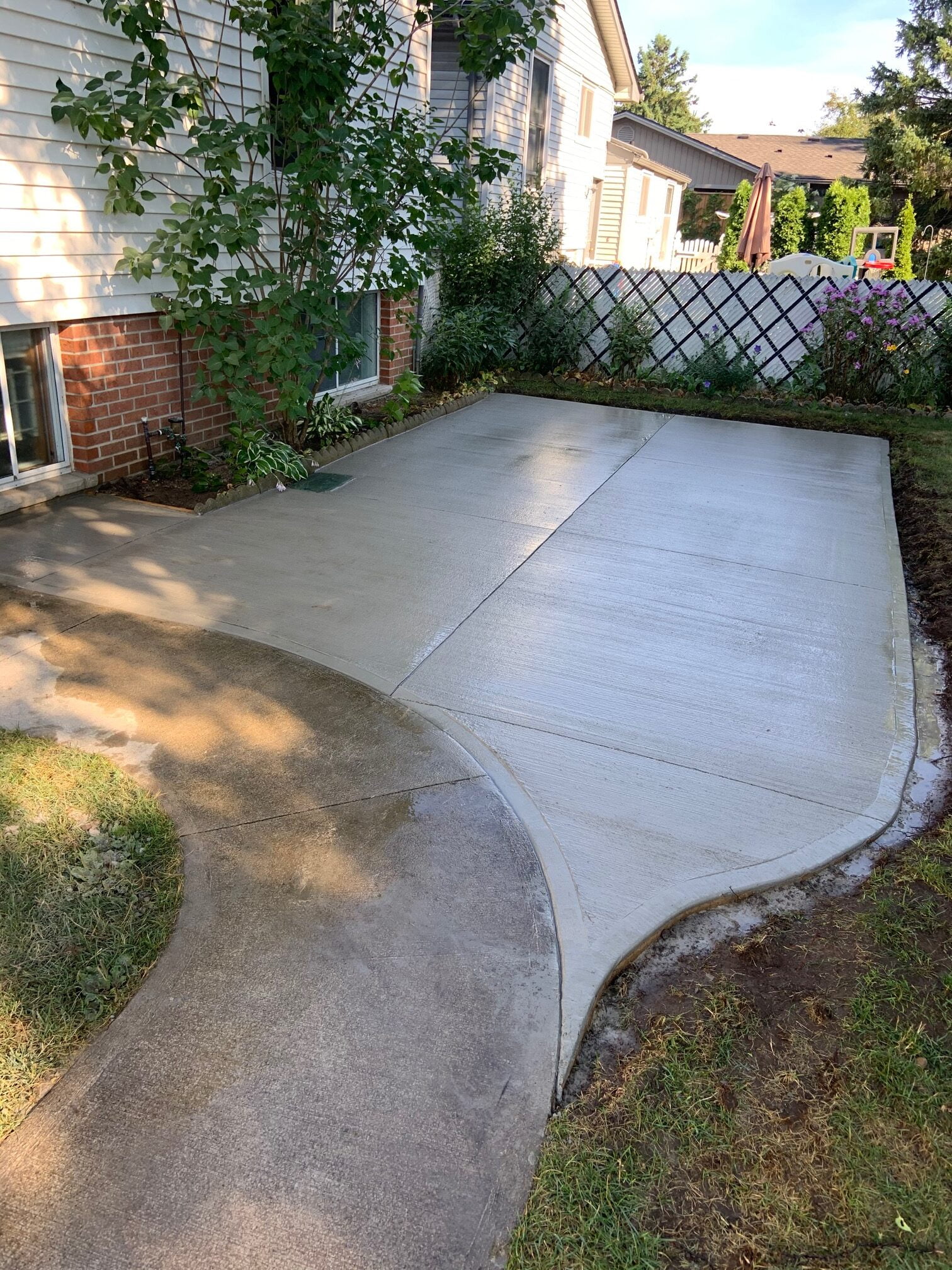 Our

Concrete

Related Services:
Concrete Driveway Installation: We offer professional concrete driveway installation services that are designed to meet the unique needs of your property. Our team works closely with you to understand your requirements and preferences, and we offer a wide range of driveway designs and finishes to choose from. Our installation process is quick and efficient, and we ensure that your driveway is installed to the highest standards of quality.
Concrete Patio Installation: If you're looking to enhance the outdoor living space of your property, we offer custom-designed concrete patio installation services. Our team has the expertise to design and install a range of patio styles, including stamped concrete, exposed aggregate, and smooth finish concrete. We work closely with you to create a patio that fits your needs and budget.
Concrete Repair and Maintenance: We also offer concrete repair and maintenance services to keep your concrete surfaces looking and functioning their best. Whether you need cracks filled, resurfacing, or sealing, our team has the skills and expertise to handle all types of concrete repair and maintenance needs.
Frequently Asked Questions of about
Concrete Driveway, Patio, and Pads
Q: What options does your company provide for customizing the appearance of my concrete driveway, walkway, or patio?
A: Our company offers a plethora of options to customize the appearance of your concrete driveway, walkway, or patio. This includes various finishes like broom finish, stamped concrete, and exposed aggregate. Additionally, we provide coloring options to enhance the aesthetic appeal. We work closely with our clients to understand their preferences and create a design that complements the surrounding landscape.
Q: Can you provide an estimate of the durability and maintenance requirements of the concrete installations?
A: Absolutely! The durability of the concrete installations typically ranges from 25 to 30 years, depending on various factors including weather conditions and usage. In terms of maintenance, it's generally low. For instance, sealing may be required every few years to protect the surface, and occasional cleaning with a pressure washer can keep it looking new. We provide detailed maintenance guidelines tailored to your specific installation.
Q: What kind of warranty or guarantee does your company offer on the concrete driveways, walkways, and patios you install?
A: Our company stands behind the quality of our work. We offer a comprehensive warranty on all our concrete installations, which covers both materials and labor. The warranty is intended to give you peace of mind, knowing that if any issues arise due to craftsmanship or materials within the warranty period, we will address and rectify them at no additional cost to you.