Concrete Driveways
Increase Your Home's Curb Appeal
In the realm of outdoor upgrades, where aesthetics converge with practicality, Master Decker is thrilled to introduce its top-tier service dedicated to Concrete Driveways.
Elevating Your Home's Entryway
Picture a sleek, sturdy concrete driveway that gracefully welcomes you home. For such a fundamental aspect of your property, it demands a foundation that is robust, evenly laid, and endures through the seasons. This is where Master Decker's specialized service in excavating, forming, and pouring durable concrete driveways comes into play.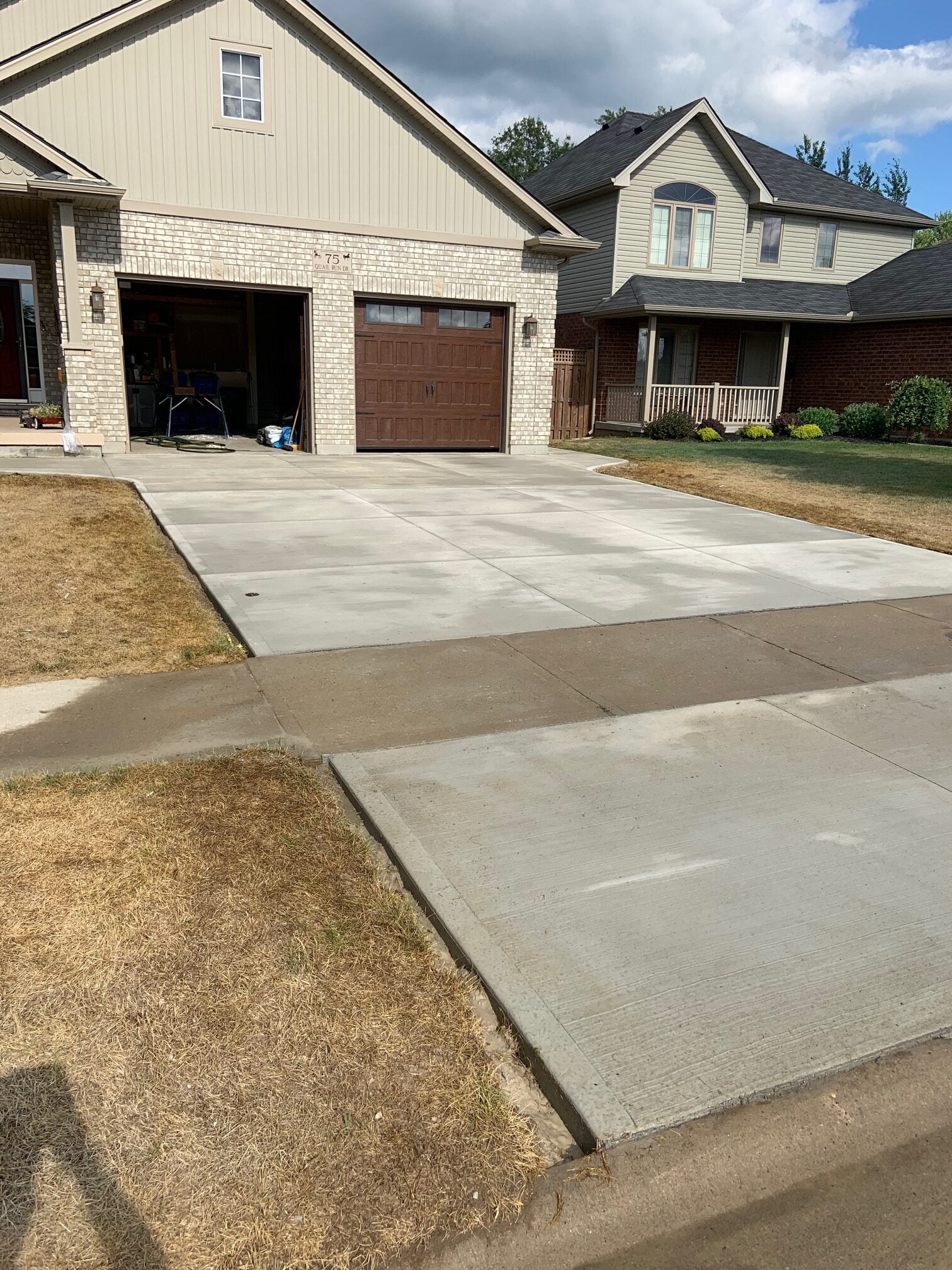 Why Concrete is the best Choice for Driveways in London and Surrounding Areas?

Selecting the ideal material for your driveway is essential as it not only needs to be durable but also aesthetically pleasing. Master Decker is here to enlighten you on why opting for a professionally poured concrete driveway is an outstanding choice:
Weather Resistant: Concrete driveways are incredibly resilient against various weather conditions. Whether it's the freezing cold or the scorching heat, concrete maintains its structural integrity. This is especially beneficial in areas like London and its surroundings, where weather conditions can be quite diverse.
Low Maintenance & Easy Cleaning: Concrete driveways are low maintenance. Spills and stains can be cleaned easily, and you don't have to worry about weeds growing through cracks, as is common with brick or paver driveways. This makes a concrete driveway an excellent option for those who want a hassle-free solution.
Increases Property Value: A well-designed concrete driveway can significantly enhance the curb appeal and value of your property. Its clean and finished look makes your home more attractive to potential buyers and is a worthwhile investment.
Benefits of Concrete Driveways
Enhanced Durability:
One of the greatest benefits of concrete driveways is their exceptional durability. Concrete is inherently strong and can effortlessly withstand the weight of vehicles for many years without cracking or becoming damaged. This makes concrete an ideal choice for driveways that require a sturdy and reliable material.
Aesthetic Versatility:
Gone are the days when concrete meant a dull gray slab. Modern concrete driveways can be customized in a plethora of colors, textures, and patterns. Whether you want a driveway that mimics the elegant look of brick or a bold, modern design, the versatility of concrete allows you to create a driveway that complements your home's exterior perfectly.
Low Maintenance:
Concrete driveways are notably low-maintenance. Unlike asphalt, which needs regular sealing, concrete requires minimal upkeep. Simple sweeping and occasional cleaning are typically all that's needed to keep your driveway looking great. This not only saves you time but also reduces long-term maintenance costs.
Increased Property Value:
A well-constructed and aesthetically pleasing concrete driveway can significantly enhance the curb appeal of your property. This, in turn, can increase the market value of your home. Investing in a concrete driveway is not just an investment in durability and aesthetics, but also an investment in your property's worth.
Our Concrete Driveway Process:
Site Assessment and Excavation: Our journey begins with an in-depth site assessment, where we evaluate the layout and soil conditions of the driveway location. Our experienced crew then undertakes meticulous excavation to create a solid base, ensuring proper drainage and leveling.
Subgrade Preparation and Compaction: It's crucial to have a well-prepared subgrade. We ensure that the soil is uniform and free from any organic material. The soil is then compacted to create a solid foundation that will support the weight of the vehicles without any undue settlement.
Forming, Reinforcement, and Base Installation: With the site prepared, we install forms to shape the driveway. Next, reinforcement is added using steel rebar or mesh to enhance the concrete's tensile strength. A base material is also laid down and compacted to further ensure a sturdy foundation for the concrete.
Pouring and Jointing the Concrete: We use top-grade concrete, known for its durability and strength. Our skilled team ensures a smooth pouring process, and the concrete is then screeded and leveled. Control joints are created to allow for concrete expansion and contraction, preventing cracks.
Finishing and Curing: Master Decker is dedicated to providing a beautiful, functional driveway. We can add various finishes such as broom finishing for traction, or decorative stamping and coloring for aesthetic appeal. Once the concrete is set, it undergoes a crucial curing process to achieve maximum strength and durability.
Sealing (Optional): To enhance the longevity and appearance of your driveway, we offer concrete sealing. This protects the surface from moisture, stains, and weather-related damage, and can be particularly beneficial for stamped or colored concrete driveways.
This methodical process ensures that your concrete driveway stands the test of time, providing a durable and attractive entrance to your property.
Why Master Decker for Concrete Driveways?
At Master Decker, our devotion to superiority is unwavering. Our seasoned professionals are well-equipped with cutting-edge machinery and tools to deliver unmatched quality in concrete driveway installations. We understand that each driveway project is distinct and demands specialized attention. Our expertise is dedicated to crafting customized solutions that surpass your anticipations.
But our prowess does not stop at concrete driveways. Master Decker is adept at managing a diverse range of outdoor residential projects. Whether you're looking to enhance your backyard with a patio, or need professional concrete sealing, we have the expertise to ensure your entire project is completed in-house. This holistic approach guarantees seamless integration of all elements of your outdoor space.
With Master Decker, you are not merely availing a service; you are investing in an experience that transforms the very core of your outdoor area. Trust in us to create a concrete driveway that is not only functional and durable but also a visually captivating gateway to your home.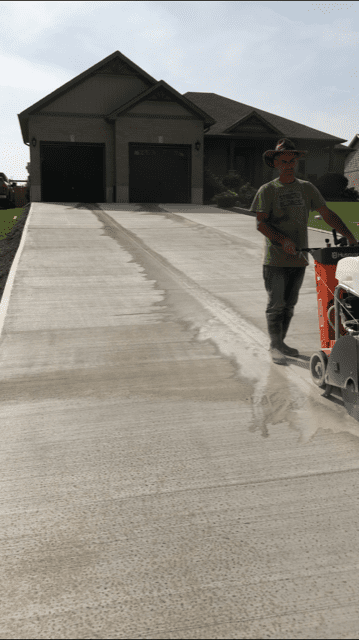 Common Concrete Pad Questions:
Q: How does Master Decker ensure that the concrete driveways installed are durable and long-lasting?
A: Master Decker uses high-grade materials and employs best practices for installation. The process includes meticulous site assessment, proper excavation, reinforcement, and expert pouring of concrete to ensure a strong and durable driveway. Additionally, we recommend our concrete sealing service to add an extra layer of protection against weather conditions and prolong the life of the driveway.
Q: Can Master Decker customize the look of my concrete driveway to match my home's aesthetics?
A: Absolutely! Master Decker offers a wide range of customization options for concrete driveways. Whether you are looking for a specific texture, pattern, or color, our team can tailor the driveway to suit your preferences. Additionally, if you are looking to extend the aesthetics to your backyard, Master Decker can seamlessly integrate concrete patios and deck building to create a coherent and beautiful outdoor space.
Q: What maintenance does a concrete driveway require, and does Master Decker offer any maintenance services?
A: Concrete driveways generally require low maintenance. However, it is recommended to have the driveway sealed every few years to protect it from stains and weather-related damage. Master Decker offers comprehensive concrete sealing services that can keep your driveway looking new and prolong its lifespan.
Q: Can Master Decker help with other aspects of my outdoor space apart from the concrete driveway?
A: Yes, Master Decker is your one-stop solution for all your outdoor project needs. In addition to concrete driveways, we specialize in concrete patios, concrete pads, deck building , and fence installation. Our expertise in a range of services ensures that different elements of your outdoor space are integrated with a consistent design and high-quality construction.
Q: What are the benefits of choosing Master Decker for concrete driveway installation over doing it myself?
A: Choosing Master Decker for your concrete driveway installation ensures precision and expertise that may be difficult to achieve with DIY. We take care of everything from material selection to finishing touches, ensuring a hassle-free process and a driveway that enhances the value and functionality of your home. Furthermore, Master Decker's extensive services including concrete sealing, concrete pads, and deck building allow for a comprehensive approach to your outdoor space development.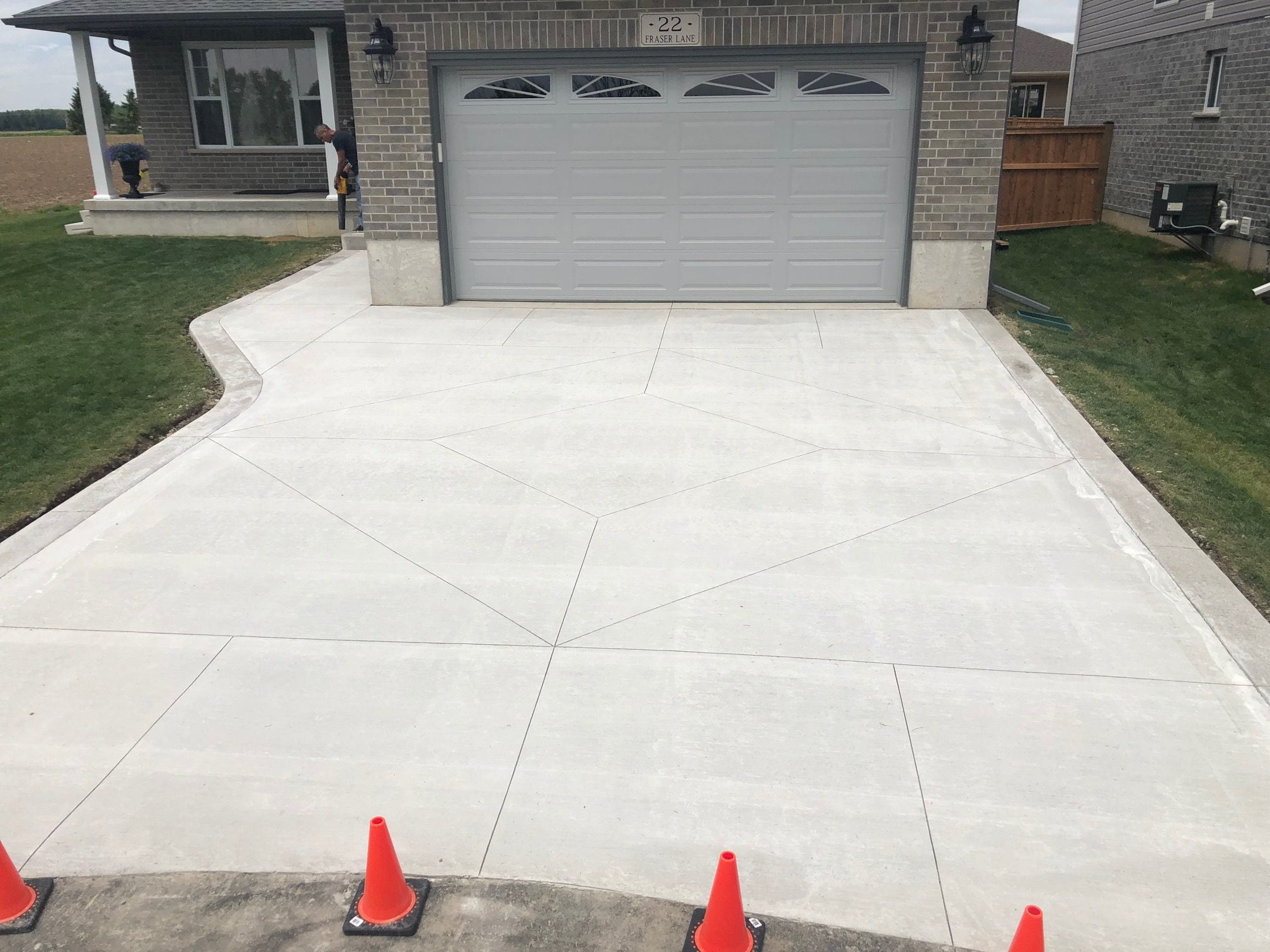 Your Backyard Transformation Awaits
We invite you to explore the myriad possibilities that our Concrete Hot Tub and Shed Pads service offers. Don't let your backyard's potential stay untapped. Connect with us today and embark on a journey to create an outdoor sanctuary that is a reflection of elegance, functionality, and structural integrity.
Interested in Booking a Pad Today?
Request a Free, Online Quote
Elevate the functionality and allure of your outdoor oasis with our exceptional hot tub and concrete shed pad installations. Serving cities including London, St. Thomas, Woodstock, Kitchener-Waterloo, Milton, Brantford, Hamilton, and more, Master Decker is your partner in crafting an exquisite backyard retreat. Our expert teams skillfully excavate, form, and pour durable concrete pads, providing the perfect foundation for your hot tub or shed. Immerse yourself in luxury or organize with elegance; embark on the journey of transformation with a solid foundation – request a complimentary quote today.
Free Quote
Interested in Learing More About Us?
Discover Why We're the Top Choice for Your Home Projects
At our company, we comprehend your desire for excellence when it comes to hiring professionals for your home improvements. With a proven track record since 2014, we have successfully transformed over a thousand decks, leaving behind satisfied customers.
Curious to know more about us? Take a moment to explore our comprehensive About Us page, where you'll gain insights into our company, core values, and the wide range of additional services we offer. We believe that transparency and trust are key, and we strive to provide you with the utmost confidence in choosing us for your home projects.
About Us