Hot Tub and Shed Pads
A Proper Base For Your Backyard Investment
In the world of outdoor enhancement, where beauty meets functionality, Master Decker is delighted to unveil its premium service catering to Concrete Hot Tub and Shed Pads.
Empowering Your Backyard Oasis
Envision a luxurious hot tub or a functional shed nestled seamlessly in your backyard. To bring this vision to life, it requires an unshakable foundation – one that is robust, level, and can withstand the test of time. This is where Master Decker's specialized service in excavating, forming, and pouring durable concrete pads comes in.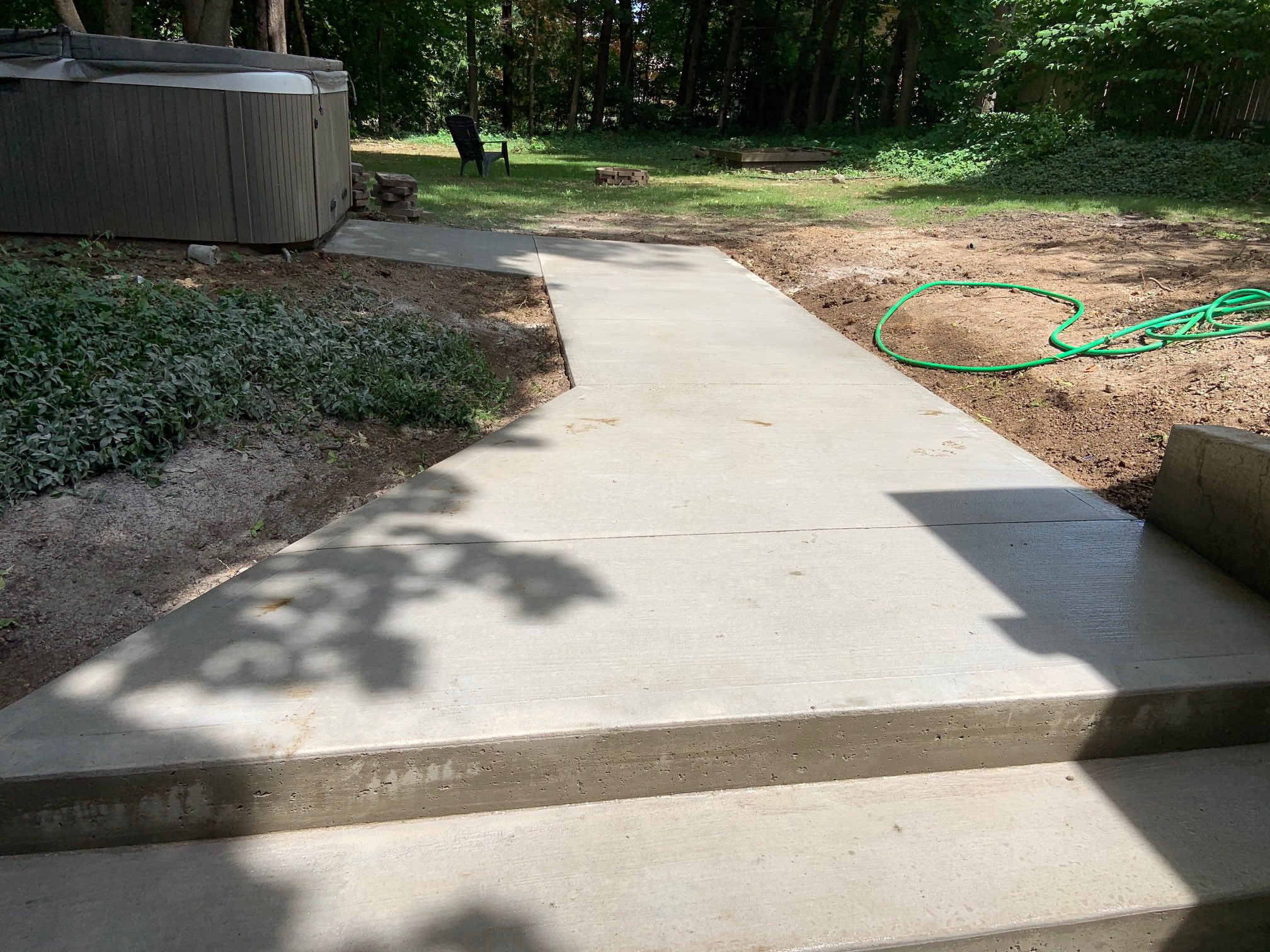 Why Concrete is the best Hot Tub Pad In London and Surrounding Areas?

Ensuring that your hot tub rests on a sturdy foundation is paramount. The consequences of an ill-conceived base can range from costly repairs to potential injuries or, in the worst-case scenario, rendering your hot tub inoperable. The key to making a wise decision lies in being well-informed. Master Decker is here to enlighten you on why opting for a professionally poured concrete base for your hot tub is the epitome of prudence:
Unrivaled Strength: Hot tubs are undeniably heavy – often weighing around two tons! It's imperative that the foundation can withstand this weight without faltering. Concrete is renowned for its sturdiness. With a smoothly poured flat surface, a concrete pad ensures unwavering support, letting you indulge in your outdoor tub for years with the peace of mind that its foundation is rock solid.
Long-Term Cost Efficiency: While the initial investment in concrete might seem substantial, it's a testament to the adage, "You get what you pay for." With concrete, you are investing in durability and low maintenance, saving you money in the long run. The last thing you want is to be looking forward to a serene soak, only to be met with the distress of structural issues due to an inferior pad.
Aesthetic Versatility: Concrete doesn't just win on the practical front; it's also a champion of style. If you yearn for your hot tub area to radiate elegance, concrete offers a plethora of design options. Stamped concrete, a specialty of Master Decker, enables you to customize your outdoor spa area to resonate with your tastes. Whether you wish to emulate the rustic charm of brick, the classic beauty of stone, or the warmth of wood, concrete can metamorphose to realize your vision.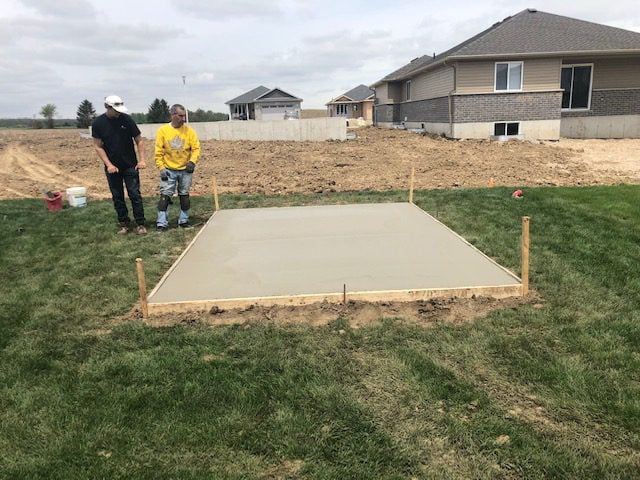 Benefits of Concrete Shed and Hot Tub Pads
Strength and Durability
Our concrete pads are built to last, providing the ultimate support for your hot tub or shed. They withstand weather elements and constant weight, ensuring a long-lasting installation.
Enhanced Aesthetic Appeal:
A well-executed concrete pad enhances the visual allure of your backyard, creating a cohesive and polished look.
Safety and Stability:
Our concrete pads offer a safe and stable foundation, significantly reducing the risk of structural shifts or damages.
Increased Property Value:
Investing in a concrete hot tub or shed pad can significantly augment the value of your property by adding functional and aesthetic elements.
Our Concrete Pad Process:
Site Assessment and Excavation: Our process commences with a meticulous site assessment. We analyze the terrain, and our team of experts engages in precise excavation to ensure an ideal setting for the concrete pad.
Forming and Reinforcement: Once the site is ready, our experts proceed to form the pad using top-grade materials. We pay close attention to creating a robust structure, ensuring the right reinforcement that caters to the unique demands of hot tubs and sheds.
Pouring the Concrete: We utilize high-quality concrete, designed for durability and strength. Our concrete pouring technique ensures a seamless, flat surface that is quintessential for the stability of your hot tub or shed.
Finishing Touches: The beauty is in the details. Master Decker takes pride in delivering a finely-finished surface that is not only strong but aesthetically pleasing.
Why Master Decker?
At Master Decker, we are committed to excellence. Our team of seasoned professionals is equipped with state-of-the-art machinery and tools to deliver unparalleled quality. We recognize that each project is unique, and we dedicate our expertise to crafting tailored solutions that exceed your expectations.
With Master Decker, you are not just getting a service; you are investing in an experience that redefines the essence of your outdoor space.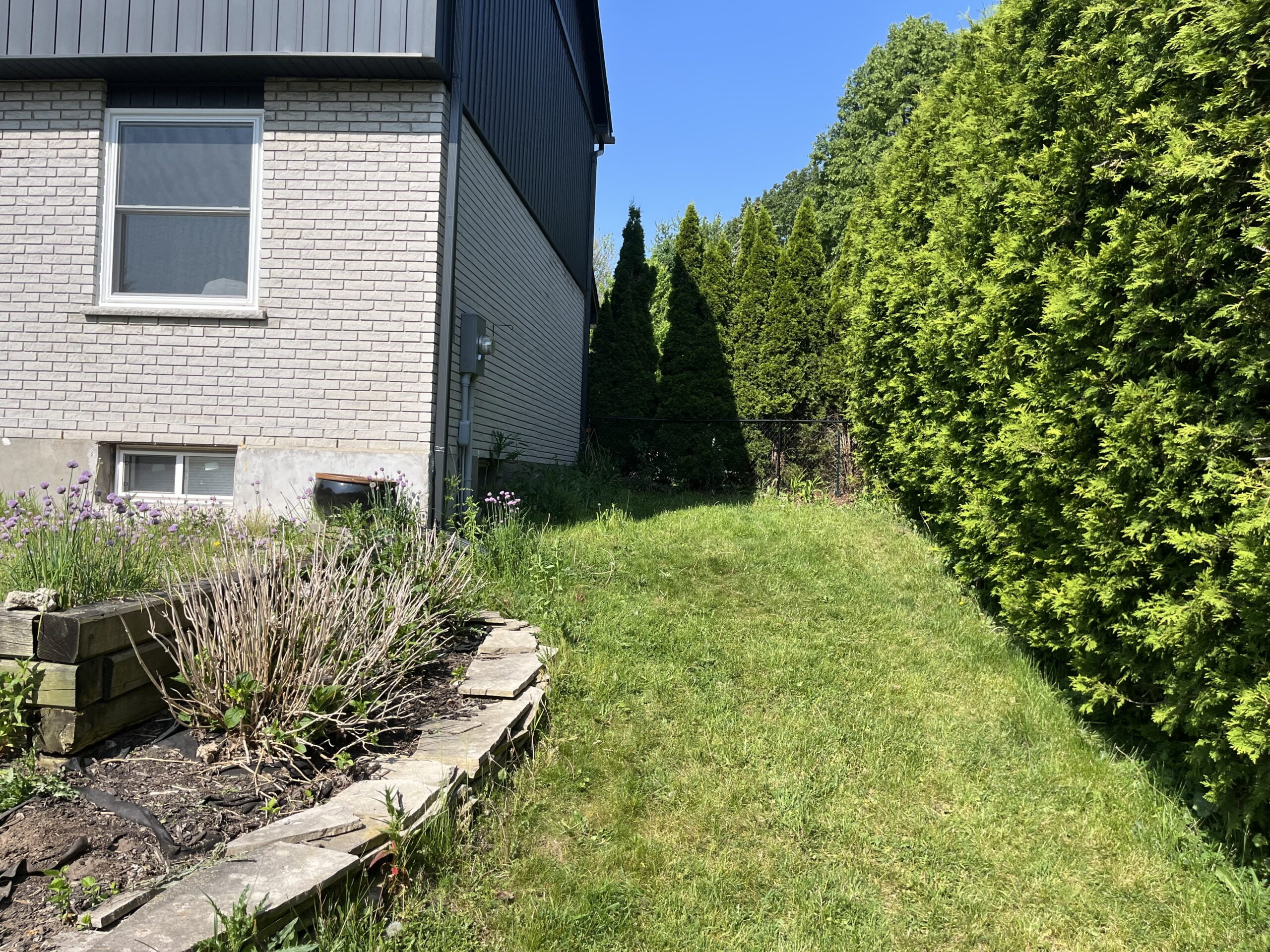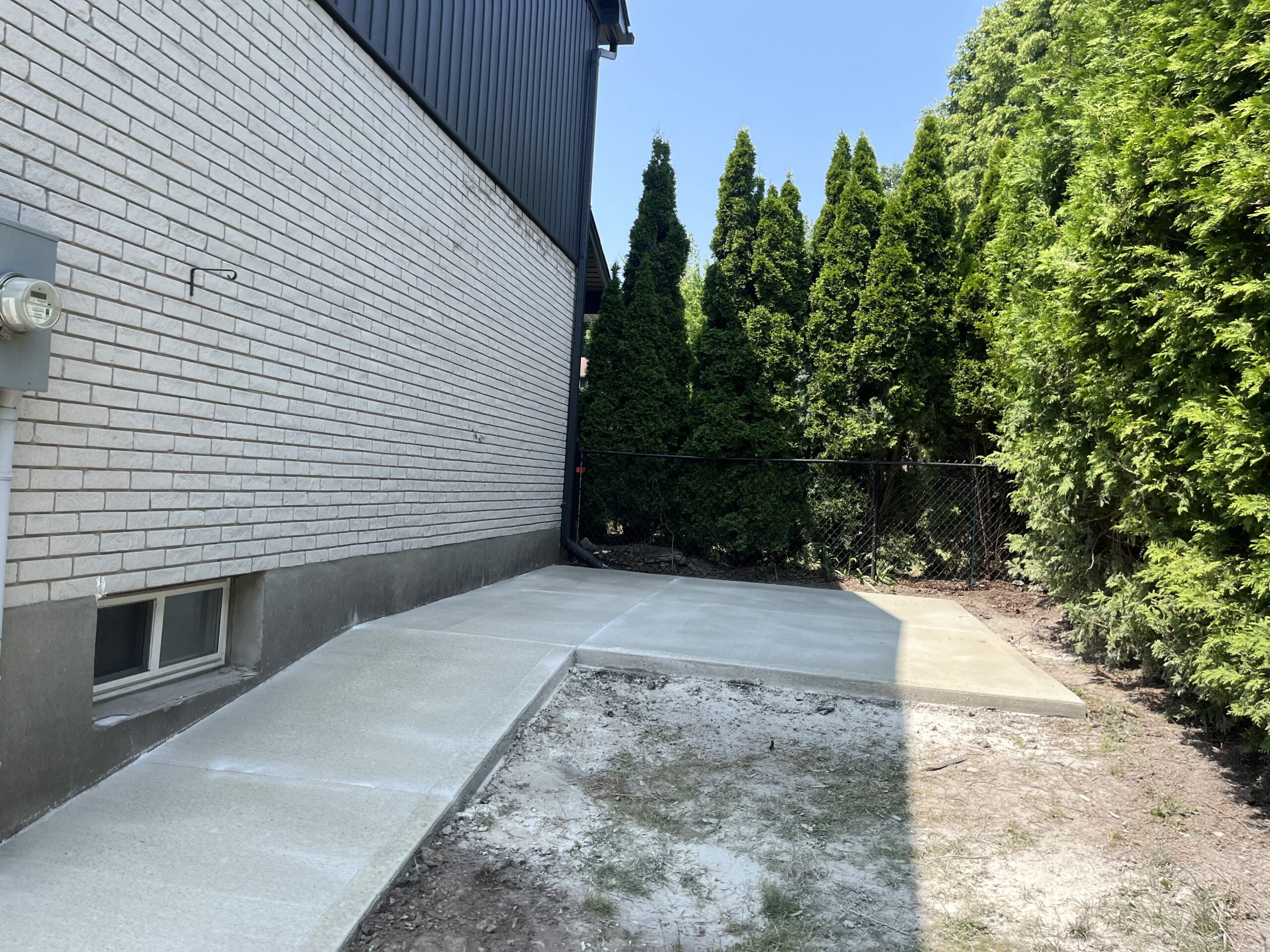 Common Concrete Pad Questions:
Q: What are the maintenance requirements for the concrete pads over time, and do you offer any maintenance services or packages?
A: The maintenance requirements for concrete pads are generally minimal. It's important to keep them clean and free from debris. Over time, they might require sealing to maintain their appearance and durability. At Master Decker, we do offer maintenance services and have different packages available to ensure your concrete pad stays in top shape for years to come.
---
Q: Can you provide details on the warranty or guarantee offered for the concrete pad installations?
A: Absolutely! At Master Decker, we stand behind the quality of our work. Our concrete hot tub and shed pads come with a warranty that covers any structural issues or workmanship defects for a certain period. The warranty specifics will be clearly outlined in your contract. We are committed to ensuring that you are satisfied with our installation.
---
Q: What customization options are available in terms of size, finish, and design for the concrete hot tub and shed pads?
A: We understand that each customer has unique preferences and needs. We offer a variety of customization options for your concrete pads. You can choose from different sizes, finishes like brushed or polished, and even incorporate decorative elements. Our experts at Master Decker are here to work with you to design a concrete pad that perfectly suits your hot tub or shed.
---
Q: How long does the installation process typically take, and what preparations are needed from my end?
A: The installation process usually takes a few days, depending on the size and complexity of the project. As for preparations, we recommend clearing the area where the pad will be installed and ensuring that there is easy access for our equipment. Our team will handle the excavation, forming, and pouring of the concrete. We'll also communicate with you throughout the process to keep you informed. If you are also considering enhancing your outdoor space with a deck, check out our deck building services.
---
Q: Are there any permits or approvals needed for installing concrete pads, and can you assist with obtaining them?
A: Depending on your location, permits or approvals may be required for concrete pad installations. We are well-versed in local regulations and can guide you through the permitting process. If needed, we can also handle the permit application on your behalf to ensure a hassle-free installation process. Additionally, if you are interested in expanding your outdoor living space further, explore our concrete patios and concrete driveways services.
Your Backyard Transformation Awaits
We invite you to explore the myriad possibilities that our Concrete Hot Tub and Shed Pads service offers. Don't let your backyard's potential stay untapped. Connect with us today and embark on a journey to create an outdoor sanctuary that is a reflection of elegance, functionality, and structural integrity.
Interested in Booking a Pad Today?
Request a Free, Online Quote
Elevate the functionality and allure of your outdoor oasis with our exceptional hot tub and concrete shed pad installations. Serving cities including London, St. Thomas, Woodstock, Kitchener-Waterloo, Milton, Brantford, Hamilton, and more, Master Decker is your partner in crafting an exquisite backyard retreat. Our expert teams skillfully excavate, form, and pour durable concrete pads, providing the perfect foundation for your hot tub or shed. Immerse yourself in luxury or organize with elegance; embark on the journey of transformation with a solid foundation – request a complimentary quote today.
Free Quote
Interested in Learing More About Us?
Discover Why We're the Top Choice for Your Home Projects
At our company, we comprehend your desire for excellence when it comes to hiring professionals for your home improvements. With a proven track record since 2014, we have successfully transformed over a thousand decks, leaving behind satisfied customers.
Curious to know more about us? Take a moment to explore our comprehensive About Us page, where you'll gain insights into our company, core values, and the wide range of additional services we offer. We believe that transparency and trust are key, and we strive to provide you with the utmost confidence in choosing us for your home projects.
About Us