Concrete Patios
Unbeatable Quality and Durabilty in London and the Surrounding Areas
When it comes to revamping your old patio or installing an entirely new one, Master Decker's dedicated patio contractors are equipped to handle it all. Our steadfast commitment to reliability, efficiency, and quality sets us apart as the leading concrete contractors in North Austin. Here's why Master Decker is your ultimate choice for impeccable concrete patios: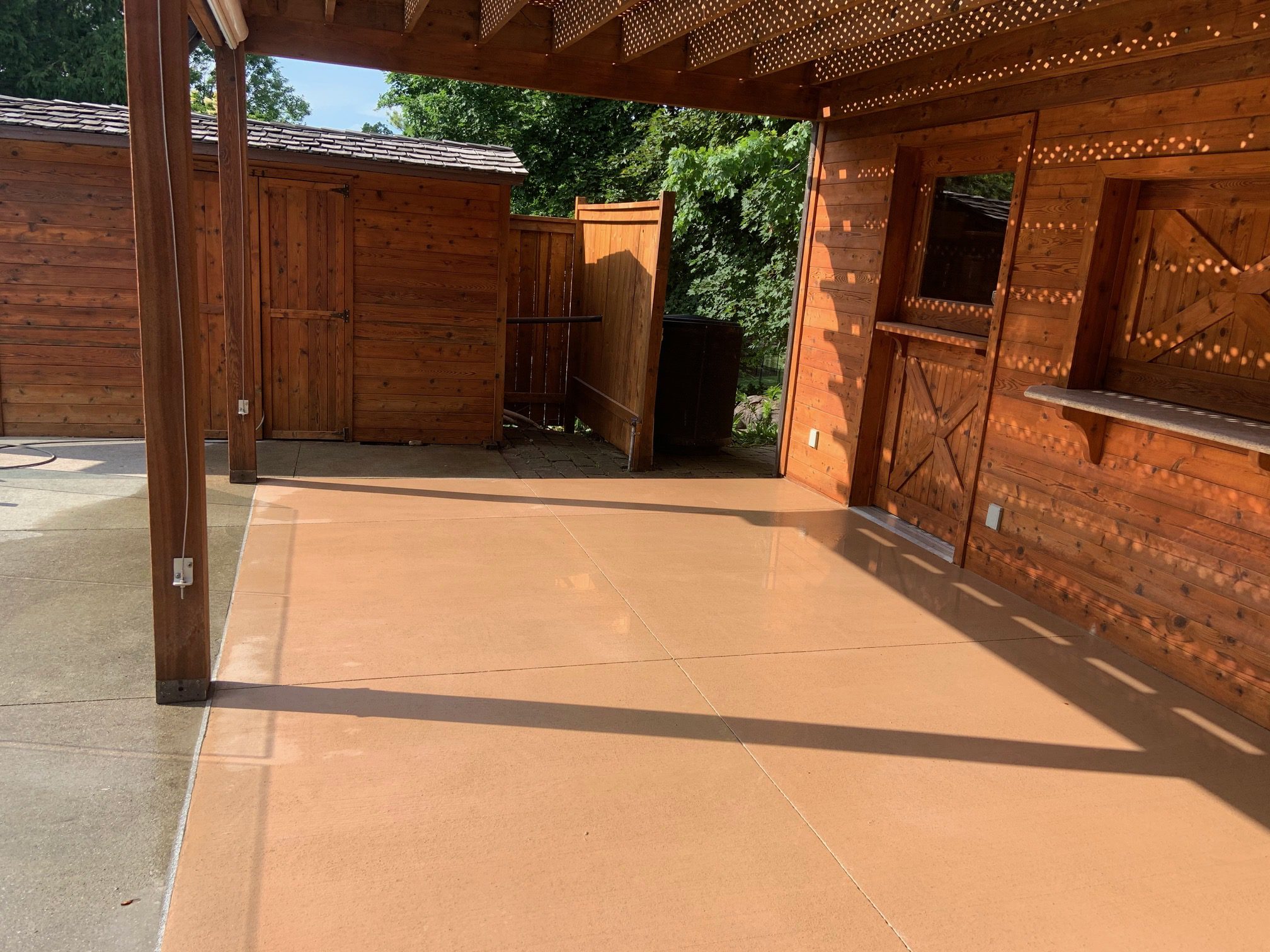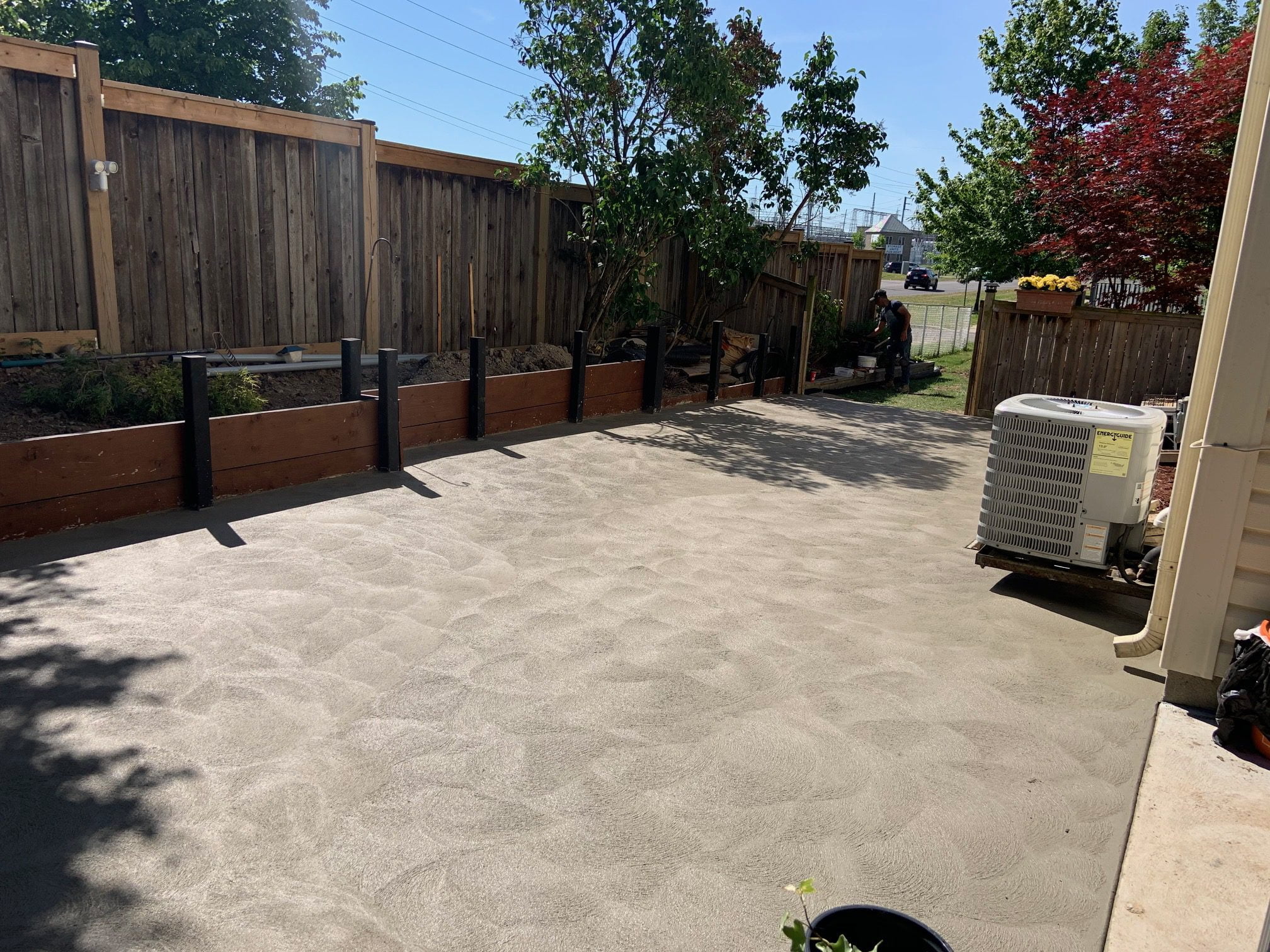 Benefits of Concrete Shed and Hot Tub Pads
Unmatched Durability
Concrete trumps alternative materials such as wood, brick, or flagstone when it comes to strength. Our concrete patios are fire-resistant and particularly resilient to North Austin's fair weather. Coupled with our concrete sealing services, they're built to last.
Hassle-Free Maintenance
Concrete patios demand minimal upkeep compared to wooden decks which necessitate the usage of wood stains and sealers. Common spills and stains can be easily tackled, ensuring the longevity of your patio for 30+ years.
Infinite Customizability:
We offer concrete patios that can be molded into any shape to adapt to backyard space constraints and aesthetic preferences, including elegant curves. The plethora of patterns and designs, such as stamped concrete, open up boundless possibilities.
Cost-Effective Investment:
A concrete patio is a long-term investment. While wooden-composite decks may last half as long, concrete stands the test of time, ensuring your investment pays off with its extended lifespan.
Design Versatility for Concrete Patios
A hallmark of our patios is the versatility in mimicking other sought-after materials such as natural stone, brick, or wood.
Post-installation, maintenance is effortless compared to traditional pavers, stone, or brick that have sand-filled joints susceptible to weeds and grass. Ditch worries about termites, wood rot, or yearly staining and resealing with Master Decker's concrete patios.
Stamped Concrete Patios
Coloured Concrete
Broom Finish
Custom Spin Float Finish
Power trowelled Smooth Finish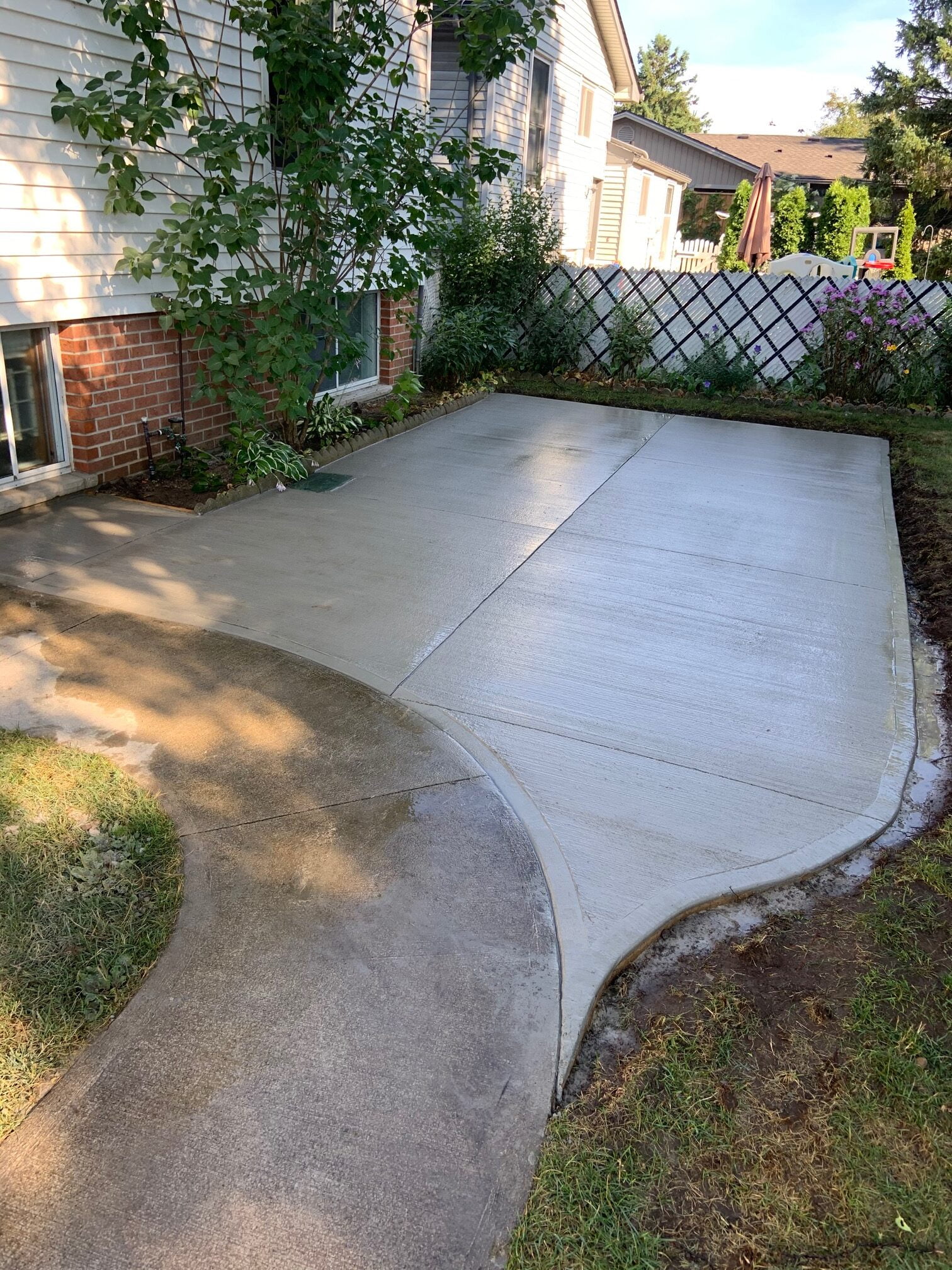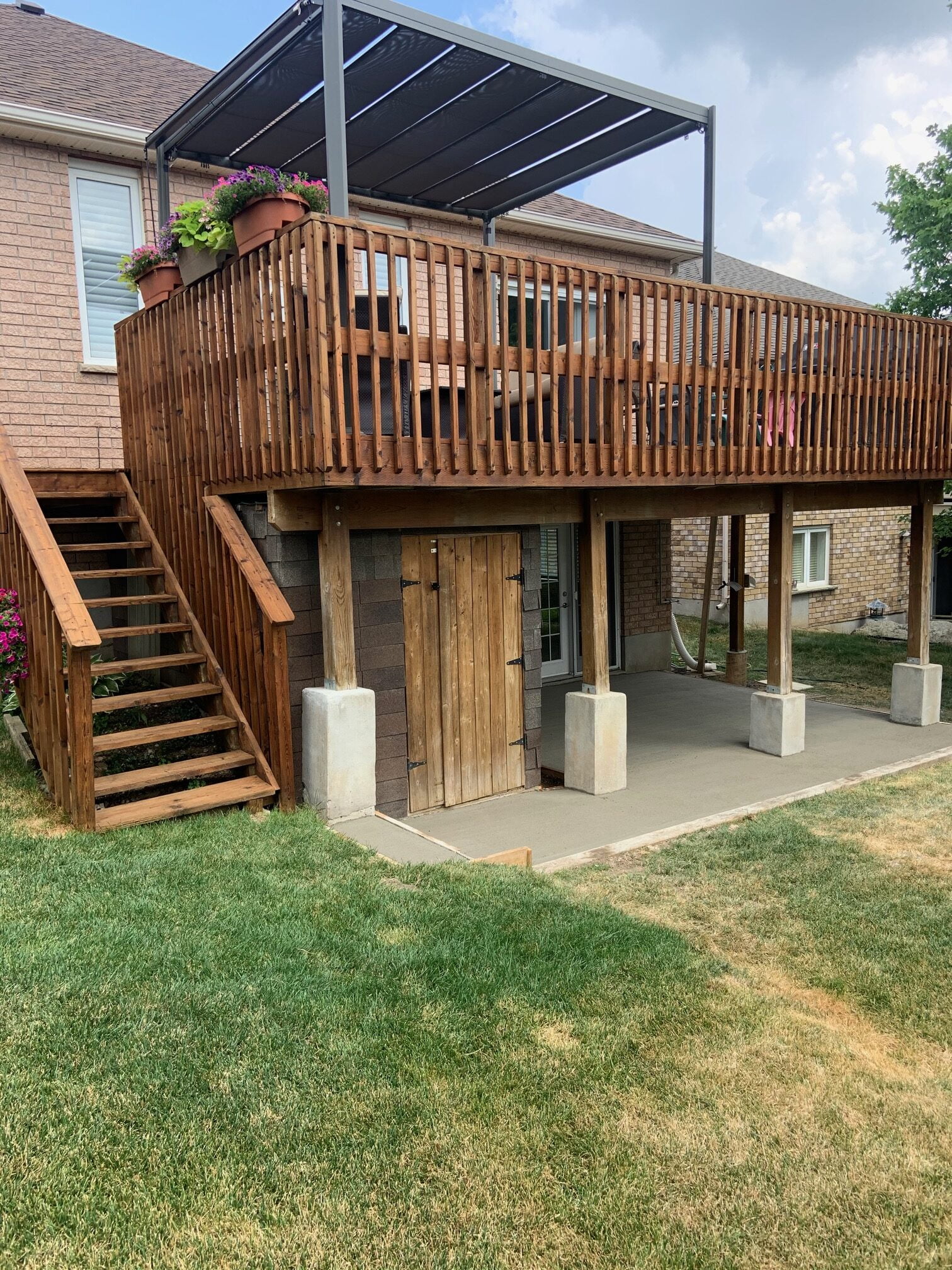 Concrete Patio Cost & Transparent Estimate Process
Investing in a new concrete patio is significant. Master Decker emphasizes precision to ensure satisfaction.
Our estimators in North Austin personally visit your property to comprehend the scope of your project, promising top-tier workmanship. We provide detailed estimates printed on-site to keep you informed every step of the way.
Schedule Your No-Obligation On-Site Consultation Today
Transforming your patio is a substantial investment, which is why it's crucial to rely on trusted concrete contractors in London Ontario.
Master Decker is devoted to providing meticulous estimates to eliminate uncertainties. We extend complimentary on-site consultations to cover all bases, assuring impeccable execution.
Book your free estimate today by calling us at (519) 266 6796 or request a quote through our contact form, and a Master Decker representative will connect with you promptly. Elevate your outdoor experience with Master Decker's expertly crafted concrete patios and explore our concrete driveways and [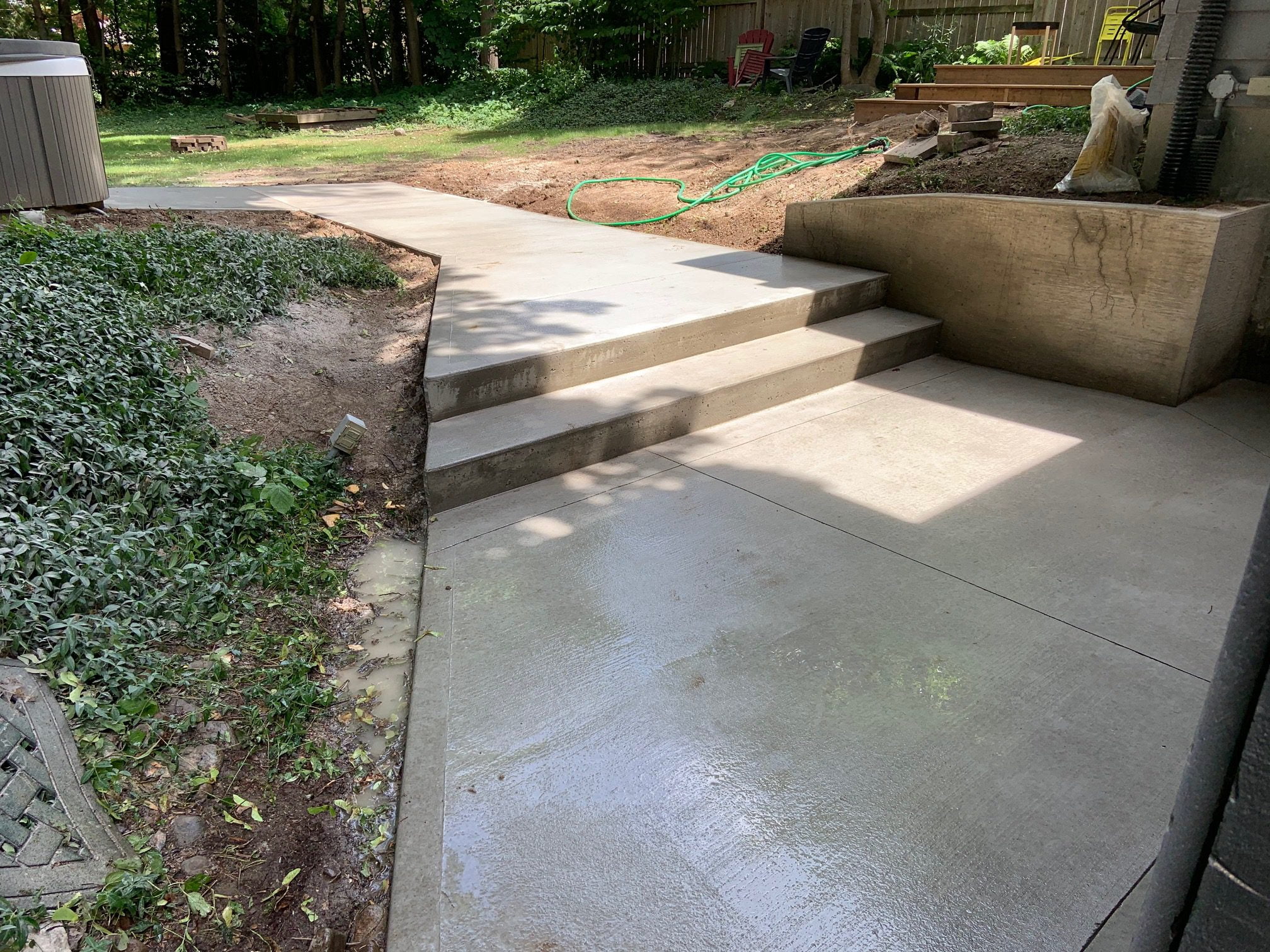 Why Master Decker?
At Master Decker, we are committed to excellence. Our team of seasoned professionals is equipped with state-of-the-art machinery and tools to deliver unparalleled quality. We recognize that each project is unique, and we dedicate our expertise to crafting tailored solutions that exceed your expectations.
With Master Decker, you are not just getting a service; you are investing in an experience that redefines the essence of your outdoor space.
Common Concrete Patio Questions:
Q: How does Master Decker ensure the longevity and durability of the concrete patios they install?
A: At Master Decker, we prioritize using high-quality materials and employing best practices in installation. Through meticulous preparation of the base, proper concrete mixing, and expert finishing, we ensure that the patios are built to last. Additionally, our concrete sealing service adds an extra layer of protection against weather conditions and prolongs the life of the patio.
---
Q: Can Master Decker customize the design of my concrete patio to match my existing outdoor décor?
A: Absolutely! Master Decker prides itself on offering an array of customization options for concrete patios. From stamped concrete that can mimic natural stone or wood to colored concrete that can complement your outdoor furniture, we can tailor the patio to suit your aesthetic preferences and space requirements. If you have an existing deck, our deck building expertise ensures seamless integration of the patio with the deck.
---
Q: What kind of maintenance will my concrete patio require and does Master Decker offer any maintenance services?
A: Concrete patios require relatively low maintenance. Regular sweeping and occasional washing are typically sufficient to keep them in good shape. For added protection, it's recommended to have the concrete sealed. Master Decker offers comprehensive concrete sealing services that protect your patio from moisture, stains, and weather-related damage.
---
Q: Does Master Decker provide services for other outdoor projects in addition to concrete patios?
A: Yes, Master Decker is a one-stop solution for all your outdoor project needs. In addition to concrete patios, we specialize in deck building, concrete driveways, and concrete hot tub and shed pads. Our expertise ensures a coherent design and high-quality construction across different elements of your outdoor space.
---
Q: What are the benefits of choosing a professional service like Master Decker for concrete patio installation over doing it myself?
A: Opting for a professional service like Master Decker ensures that your concrete patio is installed with precision and expertise. DIY can be tempting, but without the right knowledge and tools, the result might not be as durable or aesthetically pleasing. Master Decker takes care of everything from material selection to finishing touches, ensuring a hassle-free process and a patio that will enhance the value and enjoyment of your outdoor space for years to come.
Your Patio Paradise Awaits
We invite you to uncover the boundless possibilities that our Concrete Patios service offers. Don't let your backyard's potential languish unfulfilled. Reach out to us today and set sail on a voyage to craft an outdoor haven that harmonizes grace, practicality, and robust construction. Through the artistry and skill in concrete, your patio will become the heart of your backyard sanctuary.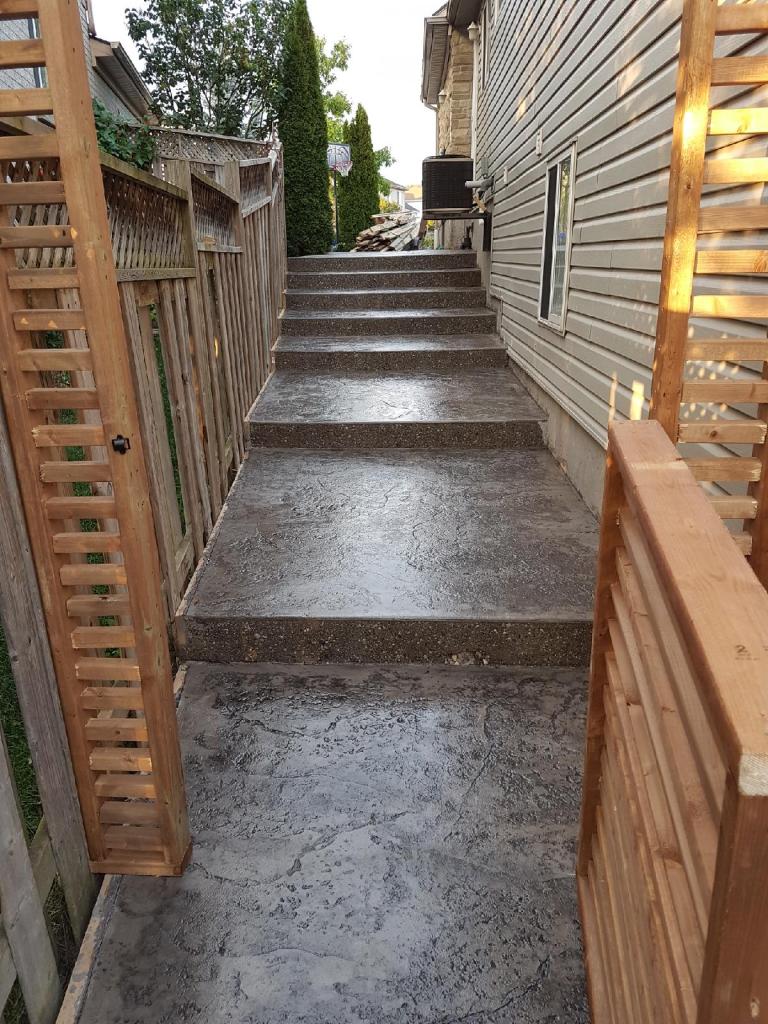 Interested in Crafting Your Patio Haven Today?
Request a Free, Online Quote For Your Patio Today
Elevate the elegance and practicality of your outdoor sanctuary with our impeccable concrete patio installations. Catering to cities including London, St. Thomas, Woodstock, Kitchener-Waterloo, Milton, Brantford, Hamilton, and more, Master Decker is your ally in forging a captivating backyard refuge. Our adept teams artfully prepare, form, and pour enduring concrete, molding the perfect patio that becomes an extension of your living space. Revel in the sophistication, entertain with grace, and bask in the open air; commence the journey of metamorphosis with a splendid patio – request a complimentary quote today.
Free Quote
Interested in Learing More About Us?
Discover Why We're the Top Choice for Your Home Projects
At our company, we comprehend your desire for excellence when it comes to hiring professionals for your home improvements. With a proven track record since 2014, we have successfully transformed over a thousand decks, leaving behind satisfied customers.
Curious to know more about us? Take a moment to explore our comprehensive About Us page, where you'll gain insights into our company, core values, and the wide range of additional services we offer. We believe that transparency and trust are key, and we strive to provide you with the utmost confidence in choosing us for your home projects.
About Us