Deck Sanding
A Key Part of Master Decker's Deck Restoration Process
So, what's the deal with deck sanding? Well, it's like giving your deck a makeover. We've got a shop full of sanders, machines, and sandpaper to make sure your deck gets what it needs.
Pressure-treated wood, cedar, or some really stubborn old paint, we handle them all. You might be wondering if it's cool to sand pressure-treated wood. Yep, it's all good if you know what you're doing, and we definitely do.
Sometimes paint and solid stains don't wanna leave your deck. They stick like glue. We use heavy-duty sanding to show them the door. This makes sure your deck is all set for our awesome stains that'll make it look like a million bucks.
Old decks can get a bit rough around the edges. Deck sanding helps smooth the surface. If you like walking barefoot, or the kiddos are running around, you don't have to worry about splinters. Plus, it makes the deck look fresh and clean.
Now, you might think about going to the hardware store and renting one of those big sanders. But here's the thing: deck boards aren't flat like floors. They've got these slight curves. Big floor sanders don't play nice with those curves. They'll either miss spots or rough them up too much.
Here's where we come in. We look at your deck, up close and personal. No two decks are the same. We'll check out yours and tell you what it needs. It's like taking your car to a mechanic, but way cooler because it's your deck we're talking about.
At Master Decker, we treat your deck like our own. Seriously, we think of deck sanding as our way of giving your deck some love. Your deck will look awesome, last longer, and be a great place for family BBQs, late-night talks, or just hanging out.
So, what are you waiting for? Your deck is calling for a little TLC. Give us a shout, and let's make it happen!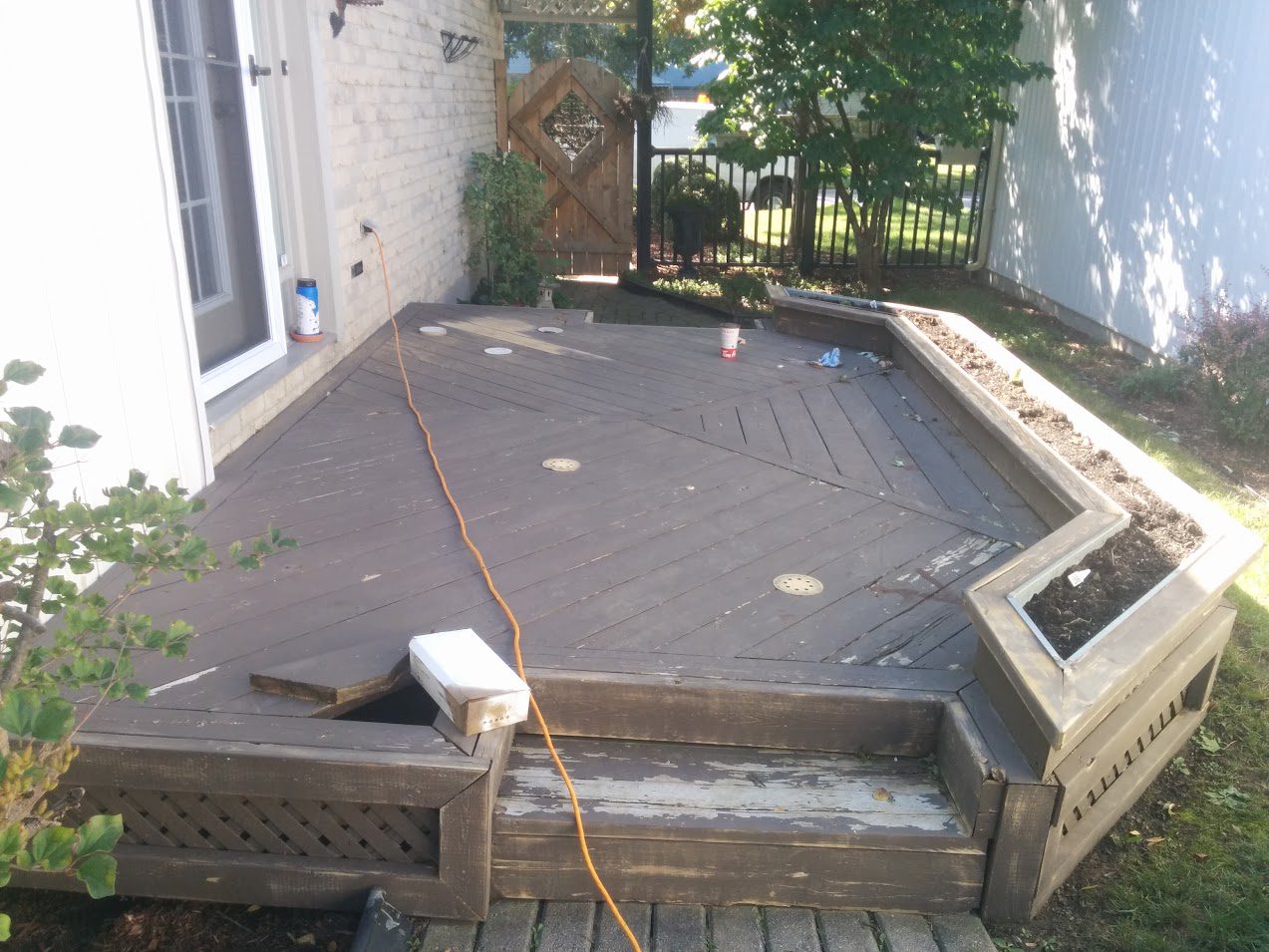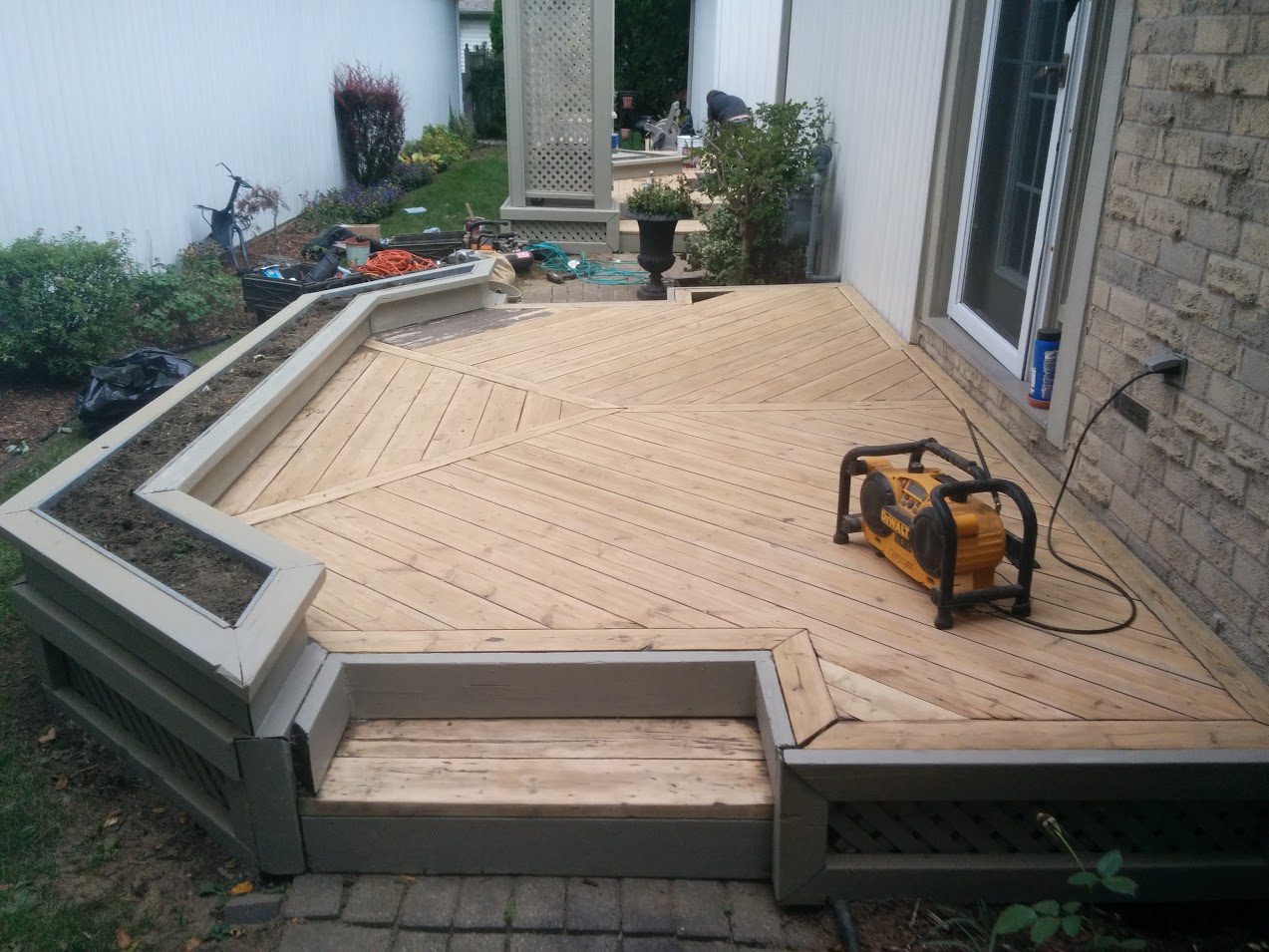 Deck Benefits From Sanding
Remove Painted Deck Surfaces
Our refined sanding process efficiently removes even the most stubborn stains, ensuring a surface ready to be stained.
No More Splinters
Our sanding removes many splinters and enhances the overall appearance of your deck boards, resulting in a polished and inviting surface.
Professional Equipment for Professional Results
Avoid the complications of renting heavy equipment and selecting the appropriate grit. We use specialized tools and expertise tailored for your deck.
Reveal the Wood's Natural Elegance
Our deck sanding procedure accentuates the inherent textures and grains of the wood, adding a touch of natural sophistication to your deck.
Enhance Structural Longevity
Deck sanding prepares the surface to optimally absorb stains and sealants, significantly extending the lifespan and durability of your deck.
Save Money By Refinishing Your Existing Deck
By professionally sanding your deck, you ensure it stays in top-notch condition, adding value to your property and maximizing your investment in outdoor living space.
Common Deck Sanding Questions:
Q: How often should a deck be professionally sanded?
A: Typically, a deck should be professionally sanded every 2-3 years. However, this can vary based on the type of wood, weather conditions, and the usage of the deck.
Q: How does professional sanding prepare my deck for staining or sealing?
A: Professional sanding smoothens the surface of the deck, removing old finishes and imperfections. This creates a receptive surface, allowing stains or sealants to penetrate deeper into the wood for longer-lasting protection.
Q: What kind of equipment do professionals use for deck sanding?
A: Professionals use a variety of equipment, including belt sanders, orbital sanders, and sandpaper with different grits. They choose the equipment based on the condition and type of wood of the deck to achieve the best results.
Q: Can professional deck sanding services address specific issues like splinters or warping?
A: Yes, professional deck sanding can effectively remove splinters and, in some cases, minimize the appearance of warping. By using the right tools and techniques, professionals ensure a smooth and even surface.
Q: How long does it take for professionals to sand a deck?
A: The time it takes to professionally sand a deck can vary based on the size and condition of the deck. Typically, it can take anywhere from a few hours to a couple of days.
Q: What safety measures do professionals take when sanding a deck?
A: Professionals wear protective gear such as masks and goggles to avoid inhaling dust. They also ensure that the workspace is safe, the equipment is properly maintained, and they follow best practices to prevent accidents.
Q: Can you provide references or examples of previous professional deck sanding projects?
A: Absolutely! We can provide references and photos from past projects. This will give you an idea of the quality of our work and the satisfaction of our previous clients.
Q: Is there any current promotions or discounts for professional deck sanding services?
A: Our promotions and discounts can vary. It's best to contact us directly to find out about any current offers that could save you money on professional deck sanding services.
Q: What are the next steps to schedule a professional deck sanding service?
A: To schedule a professional deck sanding service, simply give us a call or fill out the contact form on our website. We'll get back to you to discuss your needs and set up an appointment.
Interested in Exploring Our Deck Sanding Services?
Whether your deck is a seasoned charmer in need of a spruce-up or a fresh addition craving protection, we've got you covered. Get in touch today for a free deck staining estimate, and let's give your deck the treatment it deserves!
Interested in Booking a Deck Sanding Project?
Restore Your Old Deck Today
Elevate the charm of your outdoor space with our impeccable deck sanding services. With proficient teams stationed in cities including London, St. Thomas, Woodstock, Kitchener-Waterloo, Milton, Brantford, Hamilton, and more, we are poised to breathe new life into your deck. Embark on the journey of transformation – request a complimentary quote today.
Free Quote
Interested in Learing More About Us?
Discover Why We're the Top Choice for Your Home Projects
At our company, we comprehend your desire for excellence when it comes to hiring professionals for your home improvements. With a proven track record since 2014, we have successfully transformed over a thousand decks, leaving behind satisfied customers.
Curious to know more about us? Take a moment to explore our comprehensive About Us page, where you'll gain insights into our company, core values, and the wide range of additional services we offer. We believe that transparency and trust are key, and we strive to provide you with the utmost confidence in choosing us for your home projects.
About Us