Concrete Sealing
Concrete Sealing: Unmatched Protection and Finish in London and the Surrounding Areas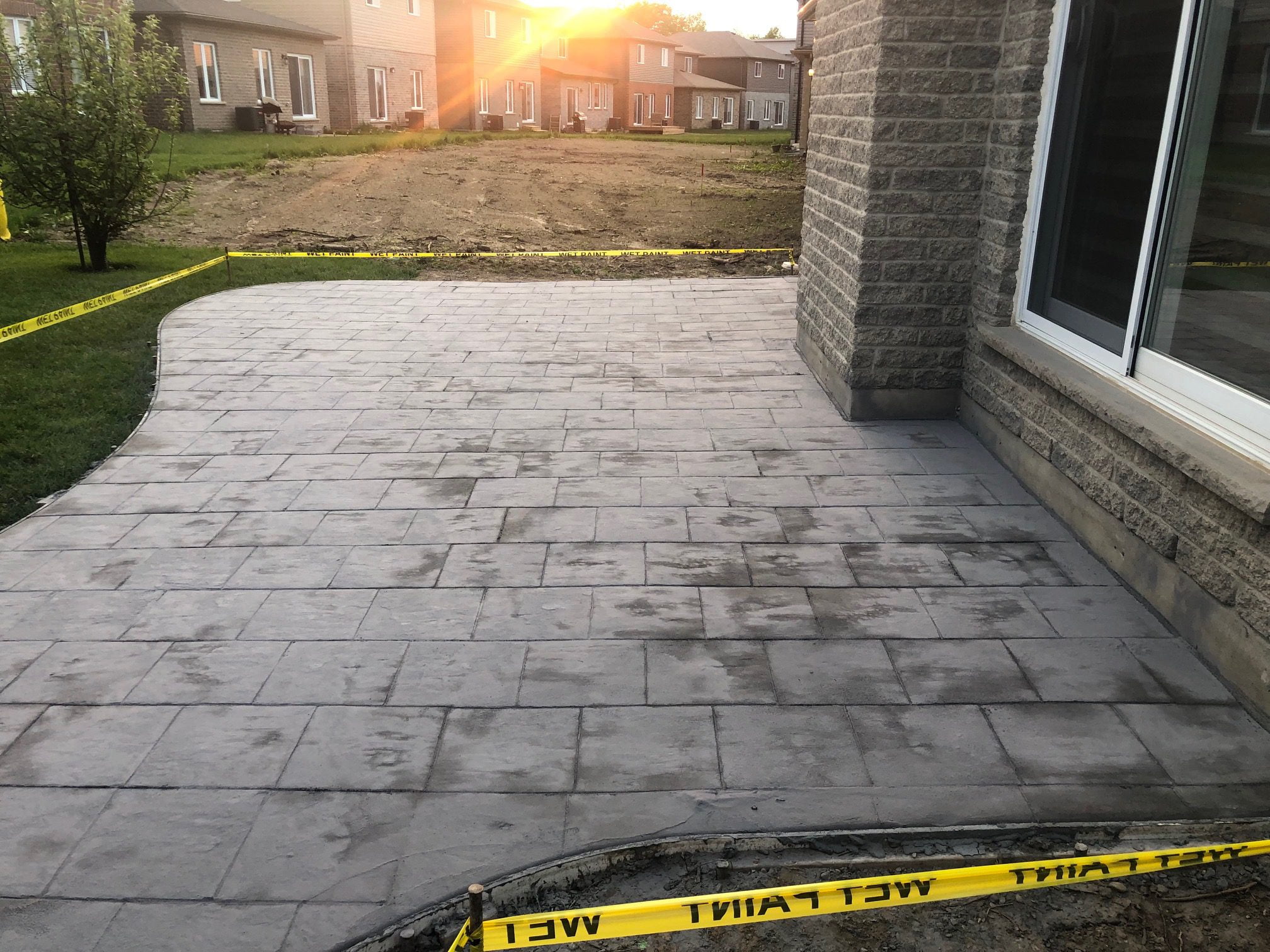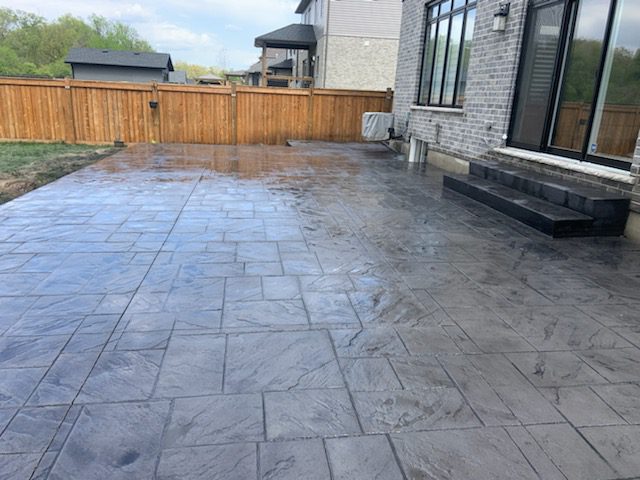 When it comes to safeguarding and enhancing your concrete surfaces, Master Decker's dedicated team is ready to cater to all your concrete sealing needs. Our unwavering commitment to excellence, efficiency, and quality establishes us as the premier concrete service provider in North Austin. Here's why Master Decker is your ultimate choice for high-quality concrete sealing:
Benefits of Regular Concrete Sealing:
⦁Incredible Finish:
Whether you desire a semi-gloss or glossy finish, concrete sealing provides a stunning appearance that complements your home's exterior. This is particularly important for stamped or coloured concrete, as sealing helps maintain consistent color and texture.
Extended Durability:
Sealing your concrete surfaces protects them from weather damage, stains, and abrasions, significantly prolonging their lifespan. It's especially critical in preserving the beauty and integrity of decorative concrete such as stamped patios or driveways.
Low Maintenance:
Sealed concrete requires less upkeep. It repels moisture and stains, making cleaning a breeze. This is crucial in maintaining the allure of areas like patios, where you want to focus on enjoyment rather than maintenance.
Cost-Effective Investment:
Concrete sealing is a long-term investment. While the upfront cost is present, it pays off in the long run by preventing costly repairs and keeping your concrete looking fresh and new for years.
Design Options for Sealed Concrete
Master Decker offers a variety of sealing options that enhance the aesthetic appeal of your concrete surfaces. From a matte finish for a natural look to a high-gloss finish that makes colors pop, the possibilities are endless.
Concrete Sealing Cost & Transparent Estimate Process
Investing in concrete sealing is significant, and at Master Decker, precision and satisfaction are paramount.
Our estimators in North Austin personally visit your property to understand the scope of your project, ensuring top-tier workmanship. We provide detailed estimates printed on-site, keeping you informed every step of the way.
Schedule Your No-Obligation On-Site Consultation Today
Securing the protection and appeal of your concrete surfaces is an investment that adds value to your home. Rely on the trusted concrete experts in North Austin.
Master Decker is dedicated to providing detailed estimates without surprises. We offer complimentary on-site consultations to make sure every detail is covered, ensuring impeccable execution.
Book your free estimate today by calling us at (519) 266 6796 or request a quote through our contact form, and a Master Decker representative will connect with you promptly. Elevate your outdoor space with Master Decker's expert concrete sealing and explore our concrete patios and concrete driveways services.
Why Master Decker?
At Master Decker, we are committed to excellence. Our team of seasoned professionals is equipped with state-of-the-art machinery and tools to deliver unparalleled quality. We recognize that each project is unique, and we dedicate our expertise to crafting tailored solutions that exceed your expectations.
With Master Decker, you are not just getting a service; you are investing in an experience that redefines the essence of your outdoor space.
Common Concrete Sealing Questions:
Q: How often should I reseal my stamped or coloured concrete surfaces, and can Master Decker help with this?
A: Stamped or coloured concrete typically should be resealed every 2-3 years to maintain color consistency and protection. Master Decker provides top-notch concrete sealing services and can set up a maintenance schedule for you to ensure your concrete stays in prime condition.
Q: Is concrete sealing only for patios or can it be used on driveways and other surfaces?
A: Concrete sealing is versatile and can be used on various surfaces including patios, driveways, walkways, and pool decks. Master Decker offers comprehensive sealing services that cater to all your concrete surfaces.
Q: What finishes does Master Decker offer for concrete sealing?
A: Master Decker provides a range of finishes including semi-gloss and glossy. This enables you to select the perfect finish that complements your exterior décor and meets your preferences for aesthetics and protection.
Q: Can concrete sealing make my outdoor space more slip-resistant?
A: Absolutely! Master Decker utilizes concrete sealers that can be mixed with additives to enhance slip resistance, making your outdoor spaces safer, especially around pools or other wet areas.
Q: Will sealing my concrete make it more resistant to weather-related damage?
A: Yes, sealing your concrete offers added protection against rain, snow, ice, and sun, preventing cracks, scaling, and surface damage. This is especially beneficial in areas with fluctuating weather conditions.
Your Pristine Concrete Surfaces Await
Discover the infinite possibilities that our Concrete Sealing service offers. Don't let your concrete surfaces succumb to the elements. Connect with us today and embark on a path to preserve and enhance the beauty, functionality, and durability of your concrete through sealing. With Master Decker, every detail matters.
Interested in Sealing Your Concrete Driveway, Walkway, or Patio?
All we need is a few photos when you fill out our contact form!
Elevate the elegance and resilience of your outdoor sanctuary with our exceptional concrete sealing services. Serving cities including London, St. Thomas, Woodstock, Kitchener-Waterloo, Milton, Brantford, Hamilton, and more, Master Decker is your partner in fortifying and beautifying your existing concrete surfaces. Our proficient teams masterfully apply sealants that not only protect but also rejuvenate your concrete, adding a splendid finish that augments the appeal of your outdoor space. Relish in the renewed splendor, host gatherings with panache, and savor the fresh air; embark on the journey of transformation with impeccably sealed concrete – request a complimentary quote today.
Free Quote
Interested in Learing More About Us?
Discover Why We're the Top Choice for Your Home Projects
At our company, we comprehend your desire for excellence when it comes to hiring professionals for your home improvements. With a proven track record since 2014, we have successfully transformed over a thousand decks, leaving behind satisfied customers.
Curious to know more about us? Take a moment to explore our comprehensive About Us page, where you'll gain insights into our company, core values, and the wide range of additional services we offer. We believe that transparency and trust are key, and we strive to provide you with the utmost confidence in choosing us for your home projects.
About Us