Deck Staining
Professional Deck Restoration That Will Last
Deck Staining Is The Key To A Good Looking, Long- Lasting Deck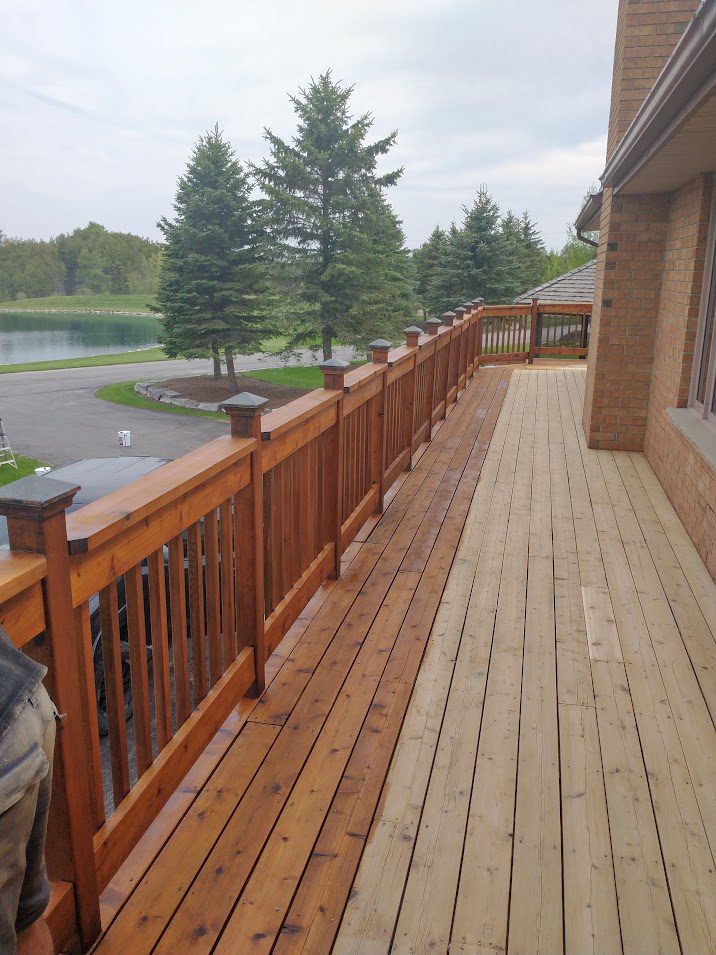 Think of your deck as a special place – the best spot for parties, barbecues, or just chilling with your favorite book. It's like another room of your house, and it needs some love and care. At Master Decker, we love making your deck look great with our top-notch deck staining services.
Deck Staining Can Protect Your Deck
Sun and rain are always battling, and your deck is stuck in the middle. This can make it change colors, get weak, or even warp. But there's good news: we can help keep your deck safe from the weather. Our deck staining not only makes the wood look great but also shields it from water and sun damage.
And before we stain, we make sure your deck is super clean and smooth. It's like rolling out the red carpet before the big show!
But Only if You Use Top-Quality Stains
Picking the perfect stain is a mix of art and science. We've used research and experience to find an oil-based stain that looks great and lasts a long time. The color is beautiful, and the built-in sealer means no peeling. Your deck will be the talk of the town, without any worries about it looking rough.
With Professional Expertise, Your Deck Staining Will Never Peel

We know everyone has different tastes. Whether you like the old-school look of cedar or the fancy feel of mahogany, we've got you covered. We have a lot of colors and we're always ready to help you find the perfect one for your home.
Before embarking on the journey to re-stain your deck, there are important preparatory steps that should be taken to ensure optimal results. These steps generally involve other services such as deck cleaning and sanding.
Deck cleaning is a vital first step that helps remove any dirt, grime, and mildew that could prevent the stain from adhering properly. This process may involve power washing and a specialized cleaning solution to thoroughly cleanse the wood. Consider visiting Master Decker's guide on deck cleaning for a detailed process.
Next is the sanding process. This step ensures a smooth and even surface for the stain to adhere to. Sanding can remove old, peeling stain, splinters, and minor surface imperfections that could interfere with the staining process. It usually involves two stages: an initial sanding with coarse-grit paper to remove surface imperfections, followed by a final pass with finer-grit paper to smooth the surface. Find more about this process at Master Decker's deck sanding guide. It's worth noting that before initiating these steps, inspecting your deck for any damages is crucial. Repair any loose nails, cracked or rotten boards to ensure your deck is structurally sound.
After these steps are completed, your deck will be ready for staining. With a clean and smooth surface, the stain will be able to penetrate effectively and evenly, giving your deck a beautiful and durable finish. For more guidance on this, you can visit Master Decker's guide on deck staining.
Remember, good preparation is key to a successful deck staining project. Master Decker is here to help guide you through each step of the process.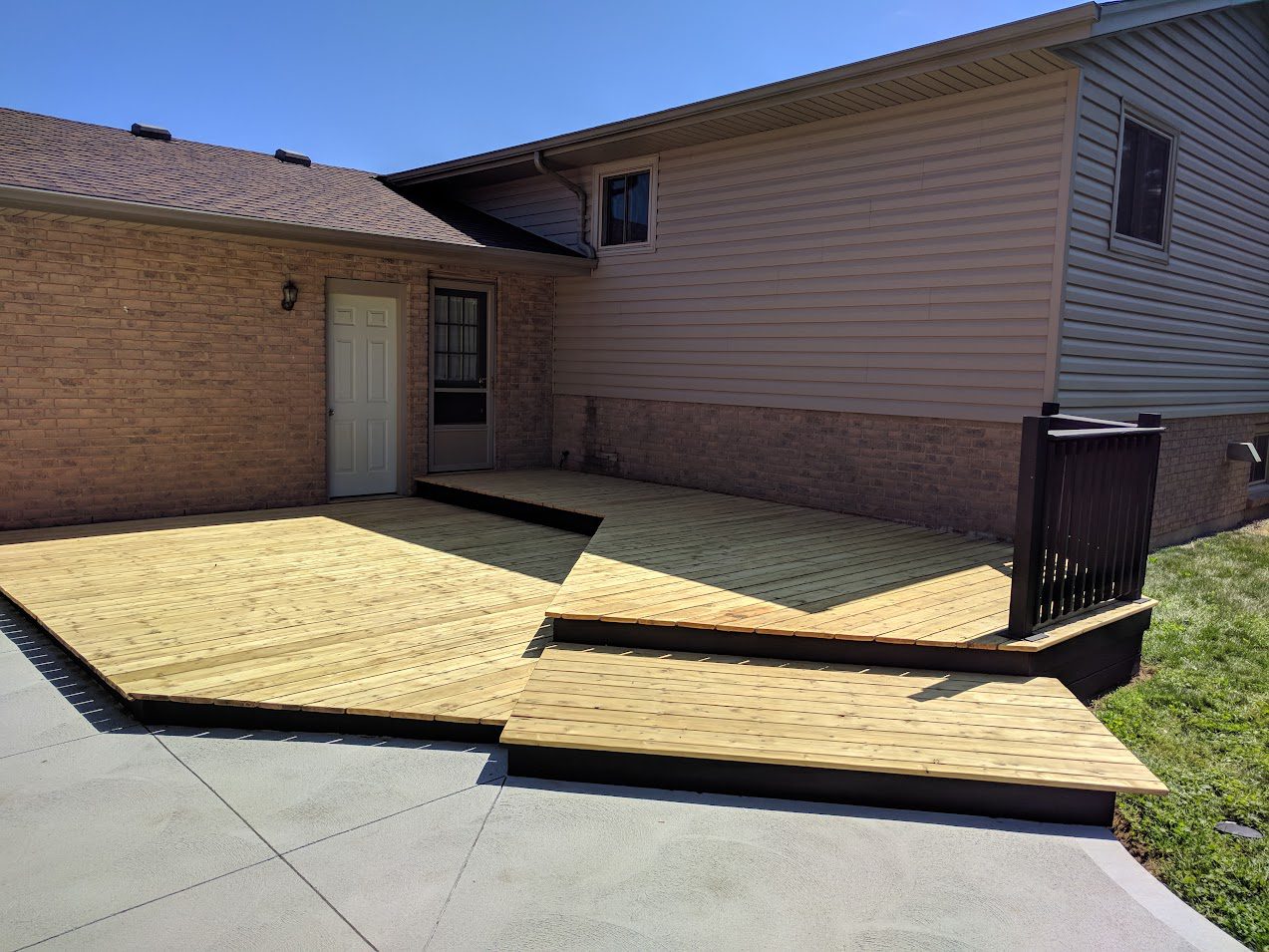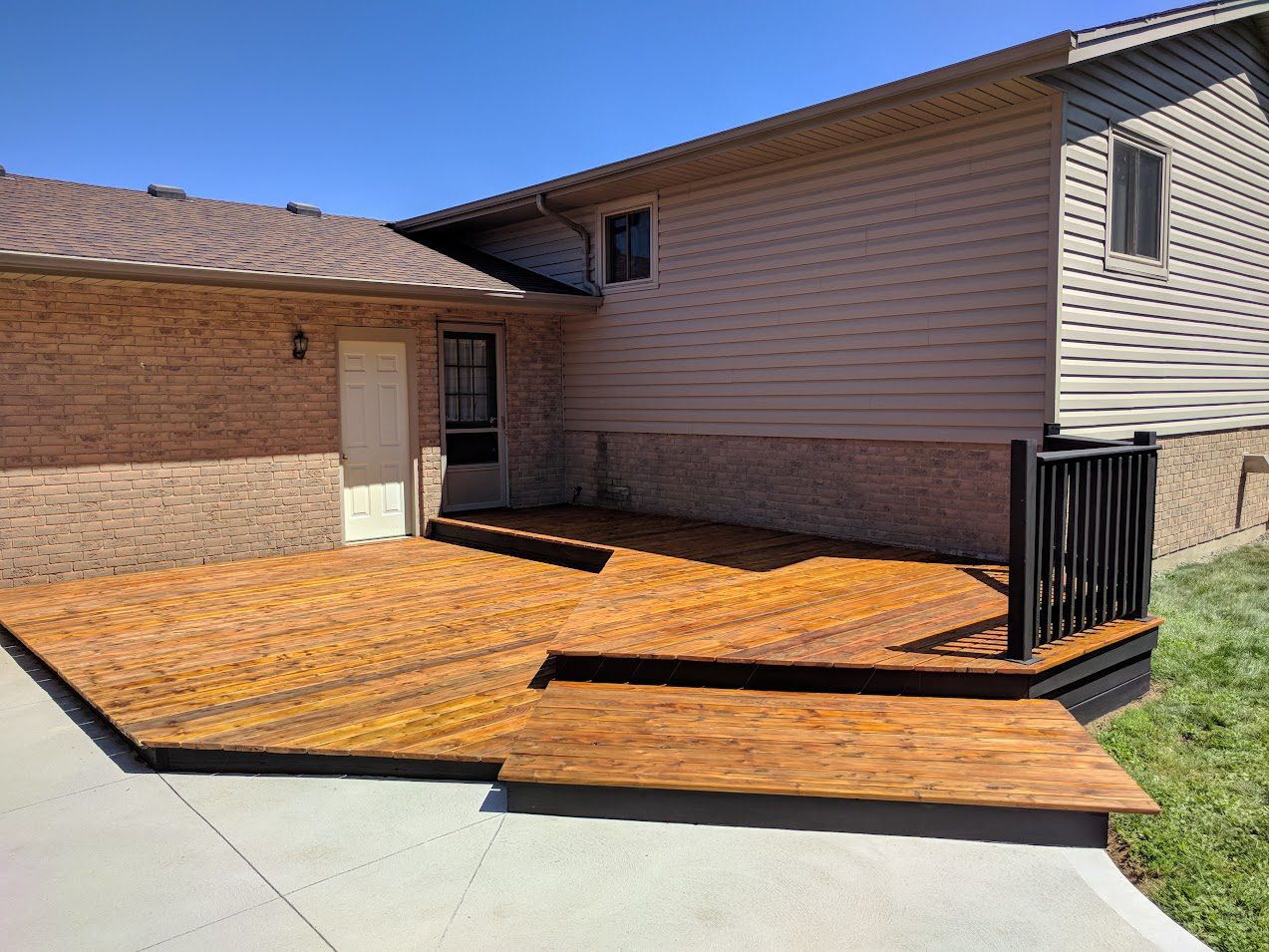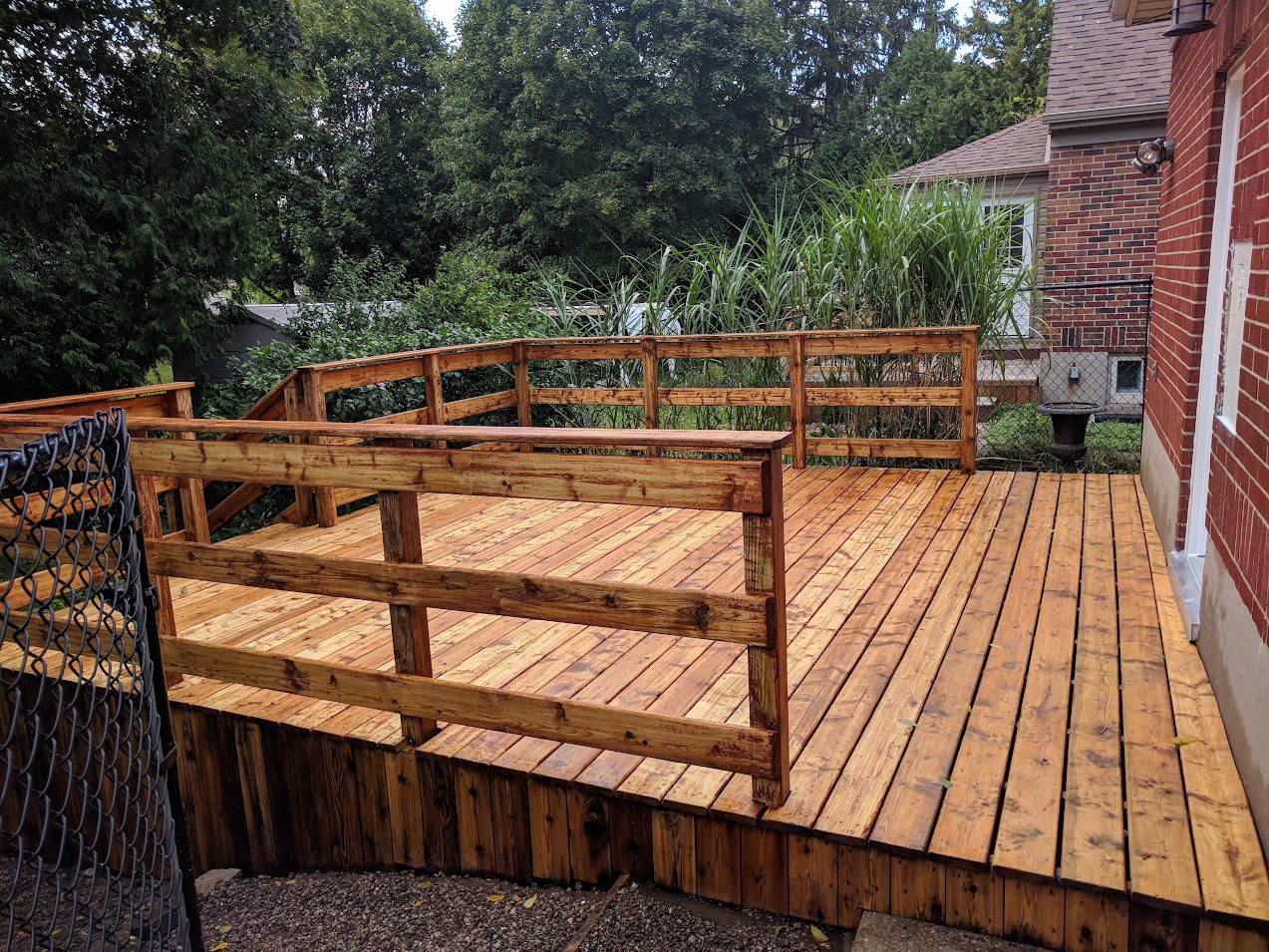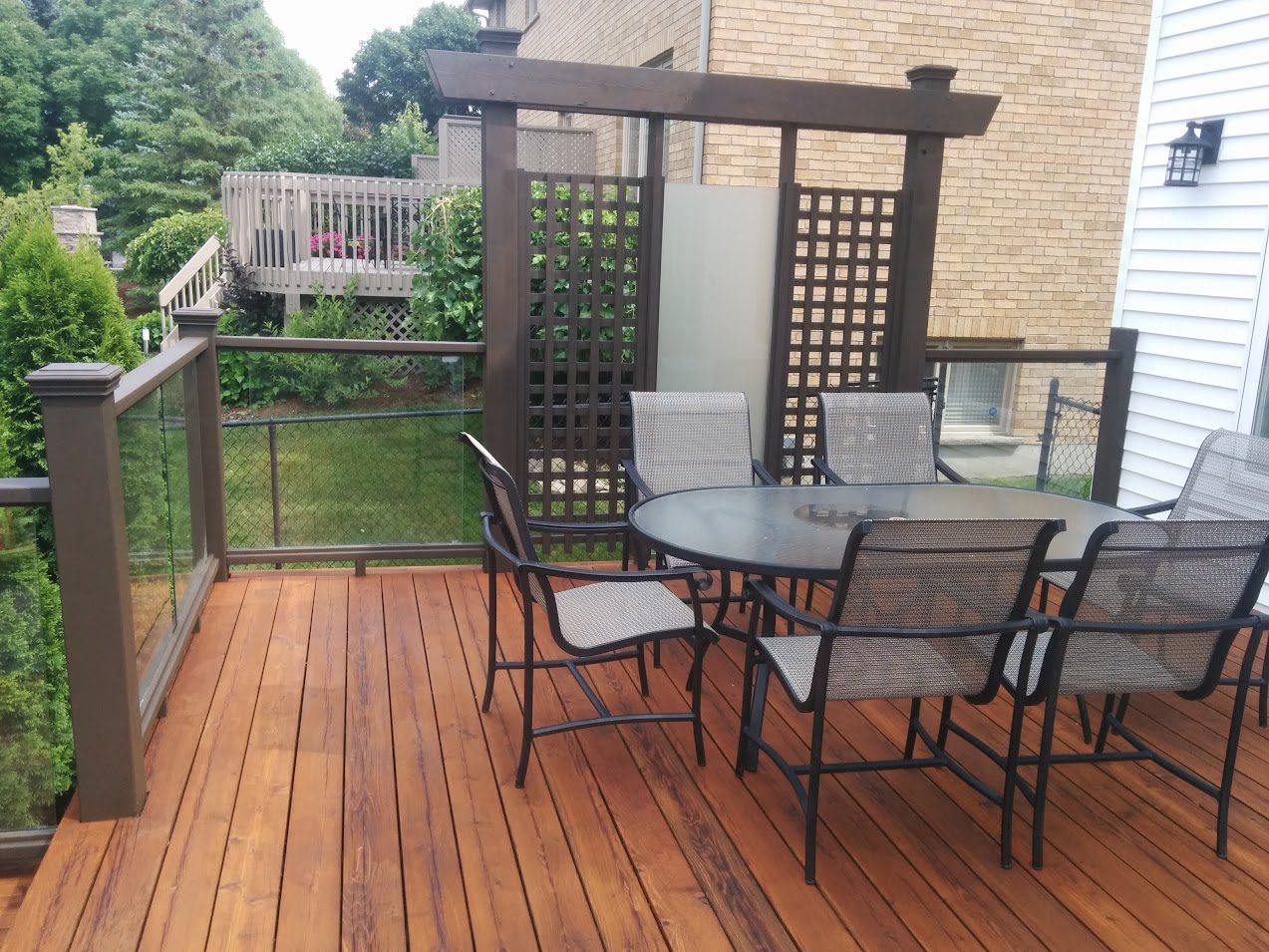 Deck staining Has Many Benefits Including Future Maintenance
Deck staining isn't just about making your deck look good; it's also about making you feel good. A well-kept deck makes your house worth more, and it's a great place for you and your family to spend time. And by taking care of your deck now, you're saving time and money in the future. It's like giving your future self a high-five!
A Stained Deck Makes It Easy to Take Care Of
Keeping your deck in shape doesn't have to be hard. Our staining process makes it easy to keep your deck looking great, year after year.
Need More Help?
If your deck needs some extra love, we're here to help. Whether it's smoothing out rough spots or replacing old boards, our deck repair services are ready to help.
Ready to show your deck some love? Get in touch with Master Decker for a free deck staining quote today, and let's turn your outdoor space into the place to be.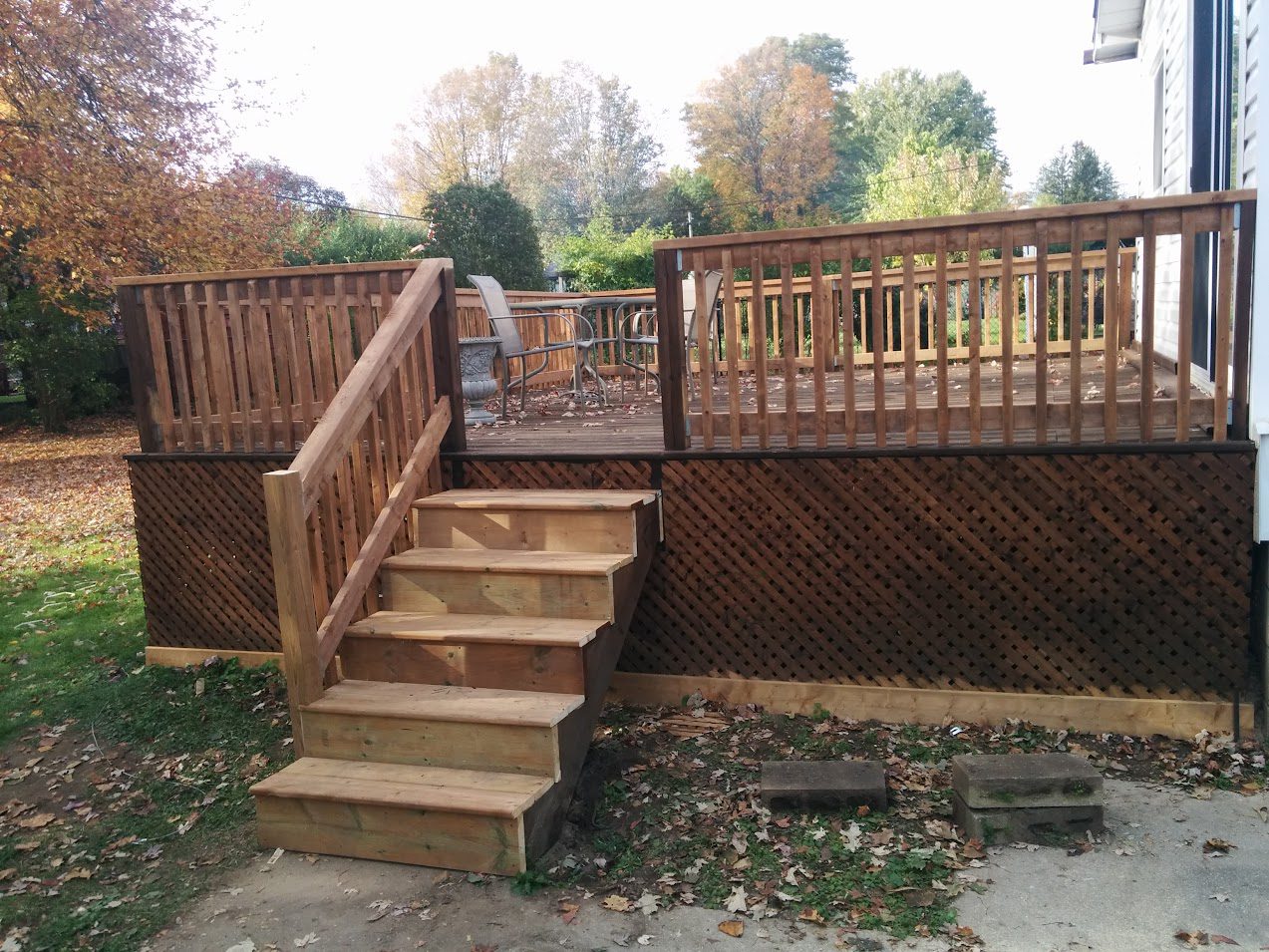 Common Deck Staining Questions:
Q: Can professionals provide references or examples of previous deck staining projects?
A: Yes, we can provide references and showcase examples of previous deck staining projects to demonstrate the quality and expertise of our work upon request.
Q: How long does the deck need to be kept off-limits after professional staining?
A: Typically, it's best to keep the deck off-limits for 24-48 hours after staining. Specific guidance will be provided based on the products used and weather conditions.
Q: What specific benefits does professional deck staining offer compared to DIY staining?
A: Professional deck staining ensures precision, high-quality materials, and expert techniques, resulting in an even finish and longer-lasting protection compared to DIY staining.
Q: Can professional deck staining help protect against common issues like rot, mildew, or fading?
A: Absolutely! Professional deck staining services include products that protect against rot, mildew, and UV-induced fading, ensuring a vibrant and healthy deck.
Q: How much does professional deck staining cost, and is it worth the investment?
A: The cost of professional deck staining varies on the size, age, and shape of each deck, but investing in services like those offered by Master Decker is worth it for the prolonged deck life, enhanced beauty, and reduced maintenance.
Q: Do professional deck staining services include thorough deck cleaning and preparation?
A: Yes, professional deck staining services include comprehensive deck cleaning, deck repair, and deck sanding to ensure the stain adheres properly and provides optimum protection.
Q: Can professionals address specific concerns like deck repairs or restoring older decks?
A: Certainly! Professionals, including Master Decker, are well-equipped to address deck repairs and restoration as part of their deck staining services, ensuring your deck is in prime condition.
Q: How does professional deck staining contribute to the longevity and durability of the deck?
A: Professional deck staining services seal the wood, protecting it from moisture and sun damage, which significantly contributes to the deck's longevity and durability.
Q: Are there any environmentally friendly or sustainable options for deck staining?
A: Yes, there are eco-friendly staining options that are low in VOCs and made from sustainable resources, aligning with environmentally conscious values.
Q: How long does professional deck staining typically last?
A: Professional deck staining generally lasts 2-5 years depending on factors such as weather conditions, deck usage, and the type of stain used.
Protection from Elements:
Deck staining and sealing safeguard the deck from weather-induced damage, including moisture, rot, and UV rays.
Enhanced Beauty:
It accentuates the wood's natural grain and texture, boosting your deck's aesthetic appeal.
Increased Durability
The deck's lifespan is extended, reducing the frequency and costs of repairs.
Resale Value:
A well-maintained deck can significantly enhance your home's resale value.
Prevents Mildew and Mold
Sealing creates a barrier that prevents the growth of mold and mildew.
Easy Maintenance
Regular staining and sealing make cleaning and upkeep of the deck more manageable typically only requiring maintenance coats.
Interested in Booking a Deck Staining Project?
Professional Deck Staining Has Never Been Easier
Deck staining is essential for backyard upkeep. Our experienced teams are ready to help in cities like London, St. Thomas, Woodstock, Kitchener-Waterloo, Milton, Brantford, Hamilton, Guelph, Mississauga, Toronto, and beyond. Get a free quote today.
Free Quote
Interested in Learing More About Us?
Discover Why We're the Top Choice for Your Home Projects
At our company, we comprehend your desire for excellence when it comes to hiring professionals for your home improvements. With a proven track record since 2014, we have successfully transformed over a thousand decks, leaving behind satisfied customers.
Curious to know more about us? Take a moment to explore our comprehensive About Us page, where you'll gain insights into our company, core values, and the wide range of additional services we offer. We believe that transparency and trust are key, and we strive to provide you with the utmost confidence in choosing us for your home projects.
About Us