Deck Resurfacing
When Your Deck Structure is Good, Resurfacing is a Great Option
Elevate Your Outdoor Space with Deck Resurfacing!
Imagine stepping onto a rejuvenated deck that looks and feels brand new. Welcome to the transformative world of deck resurfacing! Nestled in the heart of London, Ontario and extending our reach to surrounding areas, our seasoned team is ready to revamp your deck and turn it into the centerpiece of your backyard.
What exactly is deck resurfacing, you ask? It's like giving your deck a second chance at life. By swapping out the top boards of your deck, you're practically getting a brand new surface without messing with the structure underneath. But, guess what? If your deck's bones need some tender love, we're not just about the surface. Our experts will dive deep and fix those joists too!
Now, you might be wondering if deck resurfacing is the right choice for you. Let's paint a picture: Your deck has braved the elements for years, and now the boards are showing cracks, splits, or rot. That's like your deck sending out an SOS. When the damage runs deep or when there's a stubborn solid stain that refuses to budge, resurfacing swoops in like a hero. Instead of engaging in a battle with heavy sanding or short-term fixes, replace those worn-out boards. It's not just smart; it's an investment in happiness.
But wait, what if your deck has only a few troublemakers – boards that forgot their manners and turned rogue? Don't worry; our sharp-eyed experts will scope out your deck, identify the miscreants, and only replace what's needed. A surgical strike, if you will! Discover the magic of individual board repairs and revitalize your deck piece by piece.
In essence, deck resurfacing is like a fountain of youth for your deck. It's a renaissance, a fresh beginning. It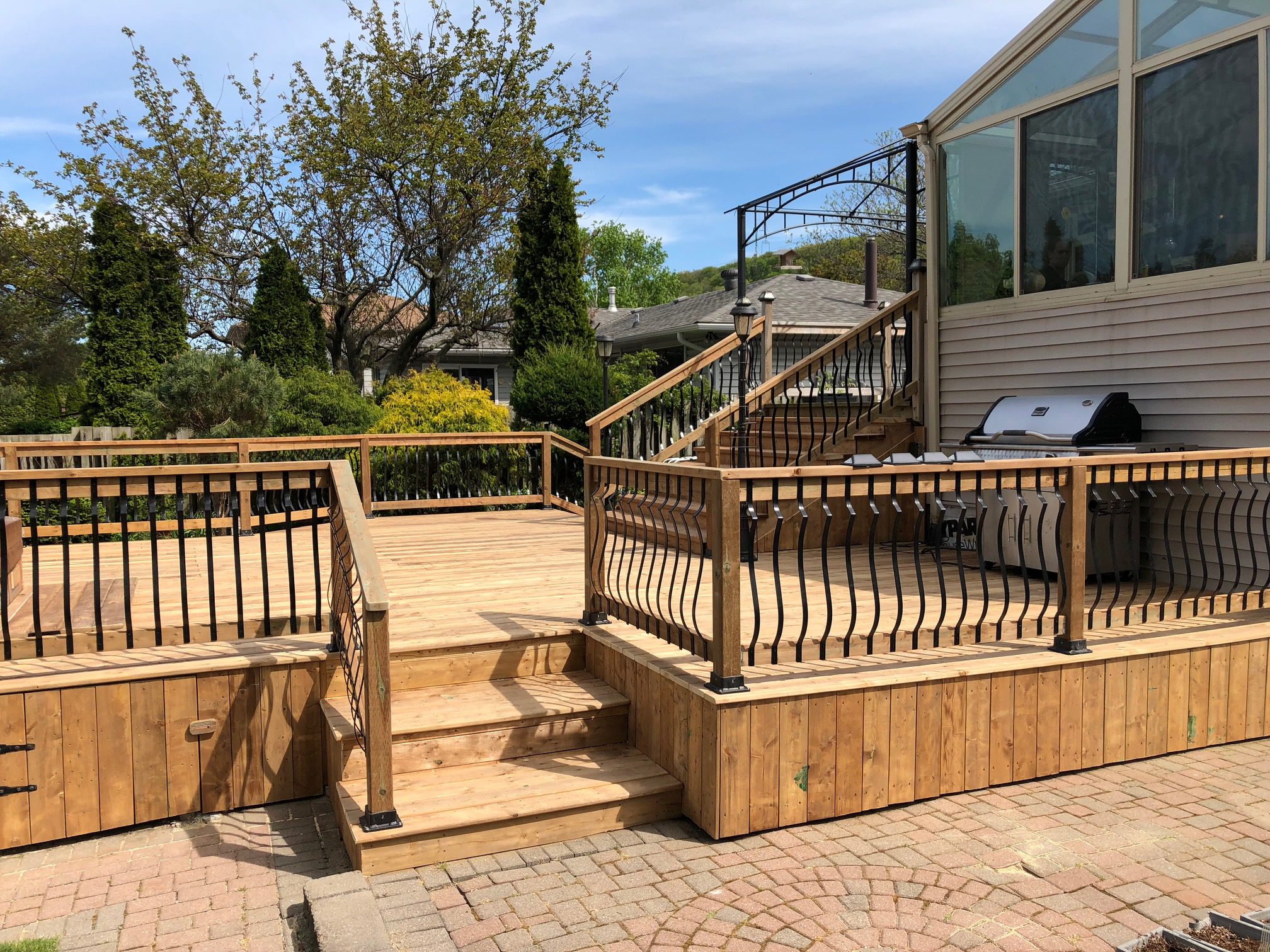 Deck Sanding: The Many Benefits
Cost-Effective Makeover:
Deck resurfacing breathes new life into your outdoor space without the price tag of a full deck replacement. You keep the foundation but upgrade the surface.
Enhanced Durability and Safety:
Replacing worn-out boards can strengthen the deck and remove hazards like splinters or loose planks, ensuring a safer space for family and friends.
Customization and Aesthetic Appeal:
Deck resurfacing opens doors to new design choices. Whether you want a fresh stain or a different board pattern, it's an opportunity to customize and elevate your deck's style.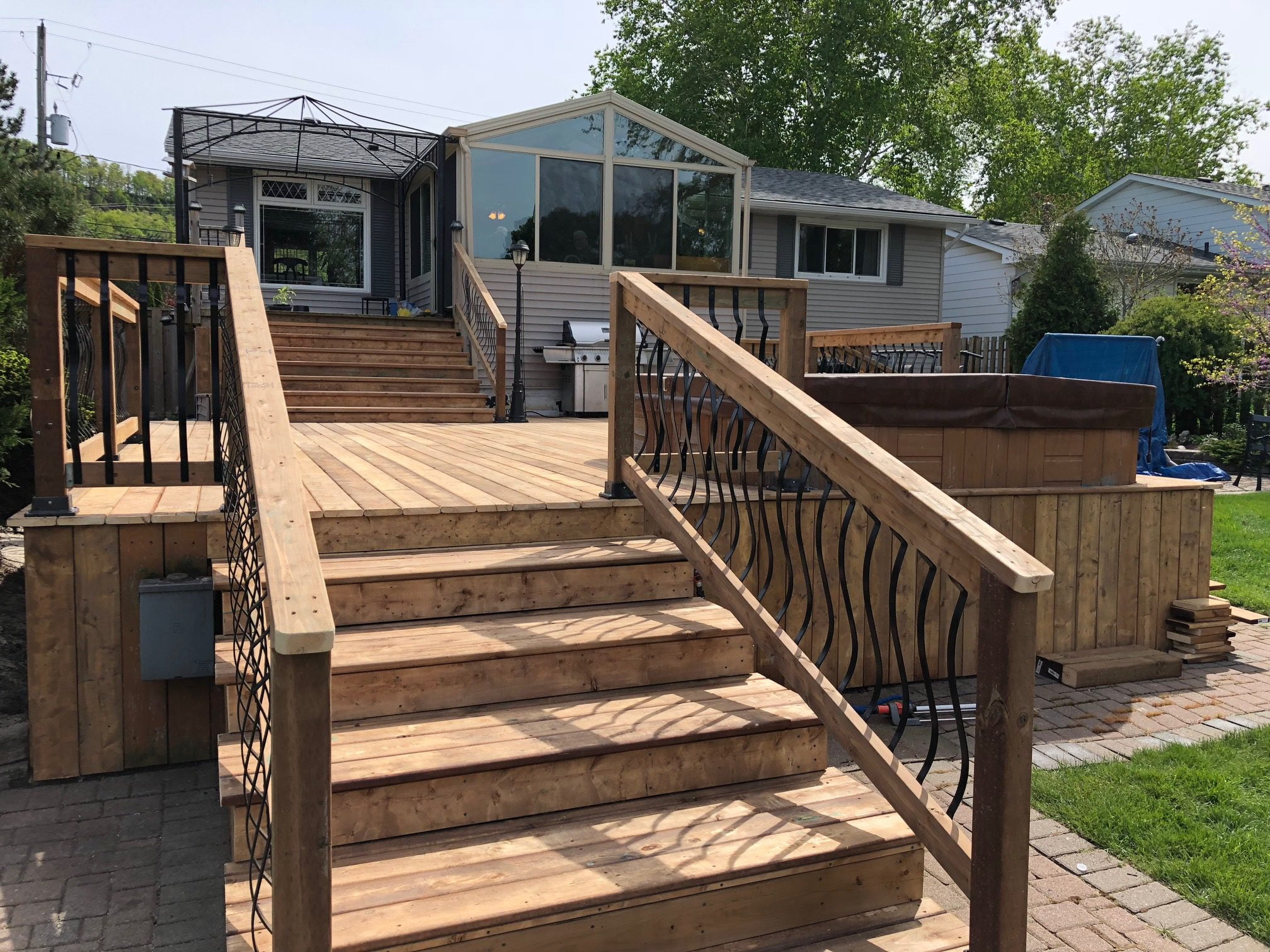 Common Deck Resurfacing Questions:
Q: What is deck resurfacing, and how does it differ from a complete deck replacement?
A: Deck resurfacing involves replacing the top boards and finishes of your deck, while a complete deck replacement involves rebuilding the entire structure. Resurfacing is often a more cost-effective way to rejuvenate your deck without the expense of full replacement.
Q: How can I tell if my deck needs resurfacing or just minor repairs?
A: If your deck has widespread issues like rotting, severe cracking, or extensive wear and tear, resurfacing might be the best option. For minor issues like a few damaged boards, deck repair might be sufficient.
Q: What materials and finishes are available for deck resurfacing?
A: Deck resurfacing materials include wood, composite, and PVC. You can also choose from a range of finishes like deck staining to enhance the look and durability of your deck.
Q: How does deck resurfacing improve the lifespan of my deck?
A: Deck resurfacing replaces worn-out boards and finishes, which strengthens the deck's structure and protects it from further damage. This helps to extend the deck's lifespan.
Q: Can deck resurfacing address issues like rotting and splintering?
A: Yes, deck resurfacing replaces the old, damaged boards with new ones, eliminating issues like rotting and splintering, and making your deck safer and more appealing.
Q: How does resurfacing affect the overall value and aesthetics of my property?
A: Deck resurfacing enhances the aesthetics of your outdoor space and can increase your property value by providing a functional and attractive outdoor area.
Q: How long does the deck resurfacing process usually take?
A: The timeline for deck resurfacing can vary depending on the size and condition of your deck. Generally, it takes a few days to a week for most projects.
Q: What maintenance is required after professional deck resurfacing?
A: After deck resurfacing, regular maintenance such as deck cleaning and periodic staining or sealing is recommended to keep your deck in great condition.
Q: Are there warranties available for the deck resurfacing work?
A: Yes, many professional deck resurfacing services offer warranties on both materials and labor to ensure the quality and durability of the work.
Q: Can professional deck resurfacing be customized to match my home's style?
A: Absolutely! Professionals can help you choose materials and finishes that complement your home's style, ensuring that your deck seamlessly blends with your property.
Q: Can you provide references or examples of previous professional deck resurfacing projects?
A: Yes, reputable deck resurfacing companies should be able to provide references or examples of previous projects. This will help you gauge the quality of their work.
Q: Can I get a written estimate for the deck resurfacing project?
A: Definitely. It's important to get a written estimate outlining the scope of work, materials, and costs involved in the deck resurfacing project.
Q: How much does professional deck resurfacing cost in London and surrounding areas?
A: The cost of deck resurfacing can vary based on materials, size, and other factors. It's best to request a customized quote from a professional service in London and surrounding areas.
Q: Are there any current promotions or discounts for professional deck resurfacing services?
A: Some companies may offer promotions or discounts. It's always a good idea to inquire about any special offers when requesting a quote for deck resurfacing.
Q: What are the next steps to schedule a professional deck resurfacing service in London and surrounding areas?
A: To schedule a deck resurfacing service,you can fill out our contact form today!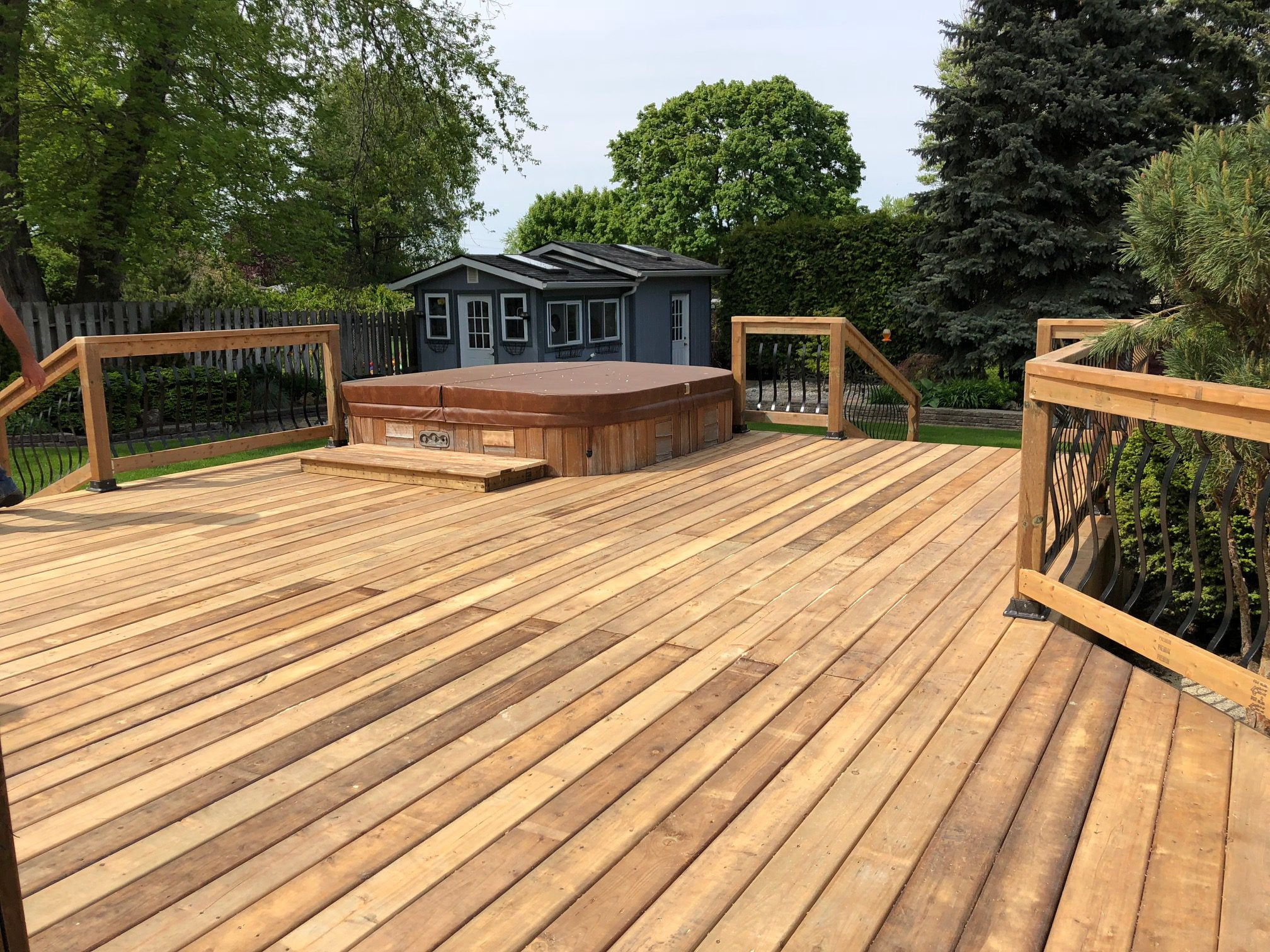 Interested in Booking a Deck Resurface Project?
Resurface Your Deck Today
Elevate the allure of your outdoor oasis with our exceptional deck resurface services. With skilled teams strategically placed in cities such as London, St. Thomas, Woodstock, Kitchener-Waterloo, Milton, Brantford, Hamilton, and beyond, we stand ready to rejuvenate your deck with a fresh surface that speaks elegance. Embark on a journey of transformative beauty and functionality – request a complimentary quote for deck resurfacing today.
Free Quote
Interested in Learing More About Us?
Discover Why We're the Top Choice for Your Home Projects
At our company, we comprehend your desire for excellence when it comes to hiring professionals for your home improvements. With a proven track record since 2014, we have successfully transformed over a thousand decks, leaving behind satisfied customers.
Curious to know more about us? Take a moment to explore our comprehensive About Us page, where you'll gain insights into our company, core values, and the wide range of additional services we offer. We believe that transparency and trust are key, and we strive to provide you with the utmost confidence in choosing us for your home projects.
About Us